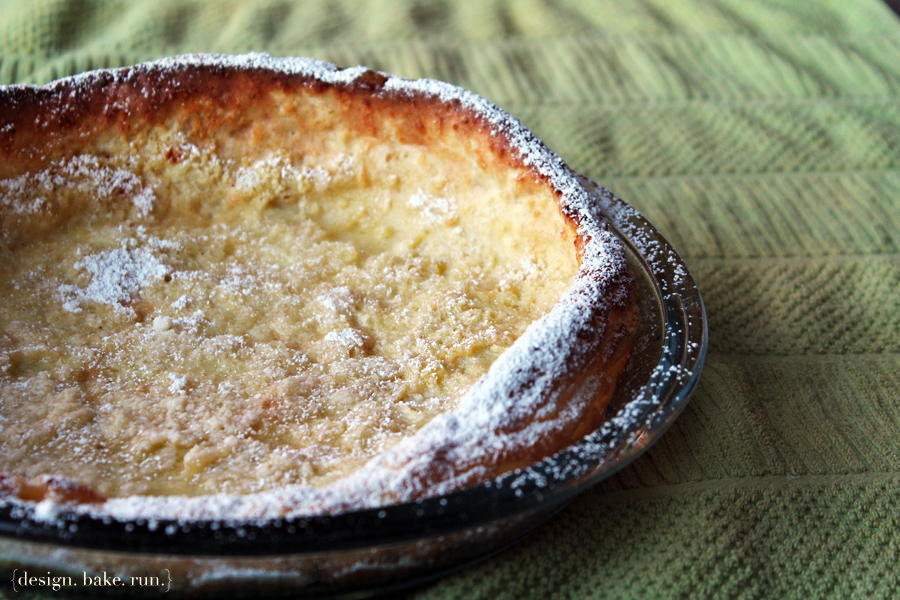 on lazy weekend mornings i sometimes make this simple pancake for breakfast. it works very well as a brunch item too but since we don't do/host brunch very often, it's breakfast for us at our house. this pancake with some scrambled or fried eggs and (turkey) bacon. mmm… doesn't that sound so yum?! m found this a couple of years ago while flipping through one of his issues of GQ magazine. i believe from my quick google search of the recipe, it was from the december 2010 issue. we have the page torn out and kept with all our other recipes for easy retrieval.
i absolutely love this pancake recipe. i believe they called it a german pancake? unlike the traditional pancake, you make this in a skillet pan (ovenproof) or a pie dish. i've yet to make it in a pan, but i've made it many times in a 9-inch pie dish. :) i have to say it is delish. it's almost like an english yorkshire pudding, but not quite. that or maybe a fancy pancake souffle, sort of?! whatever it is, it's very good and you should try it! the outcome just looks and taste amazing; light and fresh with the lemon juice, and that slight crispness from the bottom of the pancake browning gives a great texture to this dish. it's pretty awesome. this pancake can make you feel like you're one genius master chef.
below's the recipe. trust me, it's easy peasy. you'll want to make this over again and again. maybe for breakfast, brunch or serve it as a dessert with a side of (homemade) jam? just throwing out ideas. ;) enjoy!
this skillet pan (or pie dish in this case) german pancake tastes just as good as it looks. a must try!
german skillet pancake
recipe from GQ magazine, december 2010 issue
ingredients:
3 tablespoons butter
2 eggs beaten
1/2 cup flour
1/2 cup milk
1 teaspoon sugar
1/4 teaspoon salt
pinch of ground nutmeg (optional: if you've got it and want to use it – i personally don't always add this)
powdered sugar & lemon juice
directions:
preheat the oven to 425 degrees.
put the butter in a 9 or 10 inch pie plate or ovenproof skillet. place in oven, then remove once butter is melted.
mix the remaining ingredients together with a whisk and pour into the hot skillet. immediately return it to the oven and bake for 18-20 minutes until puffy and even browned on the outside.
remove. sprinkle with the lemon juice and powdered sugar. slice and serve.
serves 2-4. enjoy and happy eating! :)