i have been eyeing homemade caramel popcorn for the longest time. i think i've had these down for the little kiddies birthday party 2 years ago but never really got around to it. well, i finally made some a couple of weeks ago for m's birthday party. and i have to say, they are so easy to make! why have i not just done it then? i don't know... but what i do know is, once you've got the caramel made (you'll need a
candy thermometer
for this), the rest is easy peasy. and besides, who says you have to use the popcorn kernels and not regular microwavable popcorn? i just went ahead with the classic microwavable bags of popcorn (because you can't beat an easy cleanup) and these sweet treats still turned out delicious. plus, doing the whole popcorn kernel thing with oil in a pot is just too much work! oh, and this recipe uses apple juice so it's even better. it gives you a nice hint of apple flavor which you cannot beat. and for sure a great way to use up those half gallons or whatever size of apple juice bottle that's been sitting in our fridge for days and days (maybe weeks even?) – because we can't drink it all!
alright, the recipe for this caramel popcorn is below if you'd like to make some yourself. i say go ahead because it's really that good. you'll literally eat half of it in one sitting if you don't stop yourself already. hahaha... that's what m and i did the night i made these. we had to remove ourselves away from the sheet pan while these goodies rest.
okay, enjoy! :)
this recipe is super easy to make. i never thought it was this simple!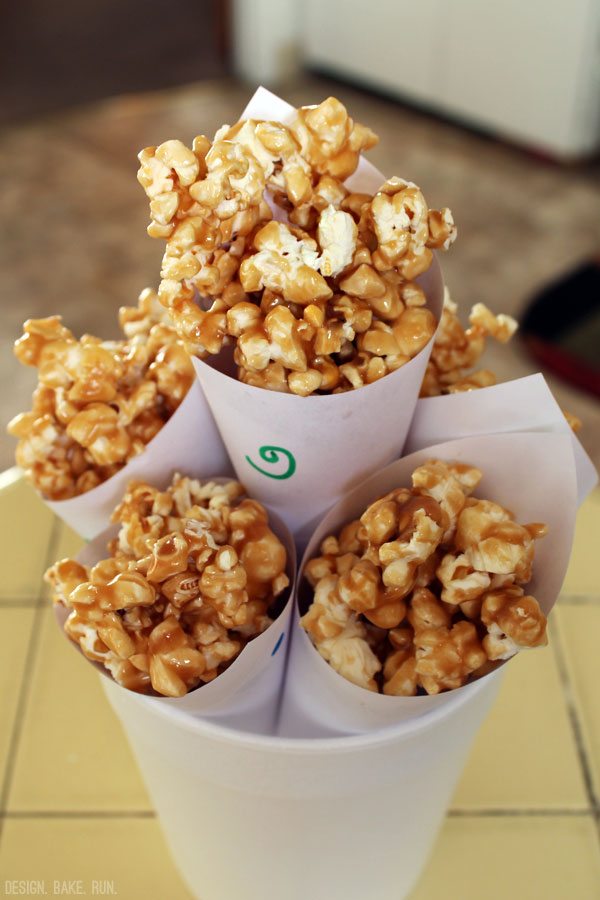 simply made paper cones are a great way to distribute these sticky but super yummy treats. who says you can't have a bouquet of caramel popcorn?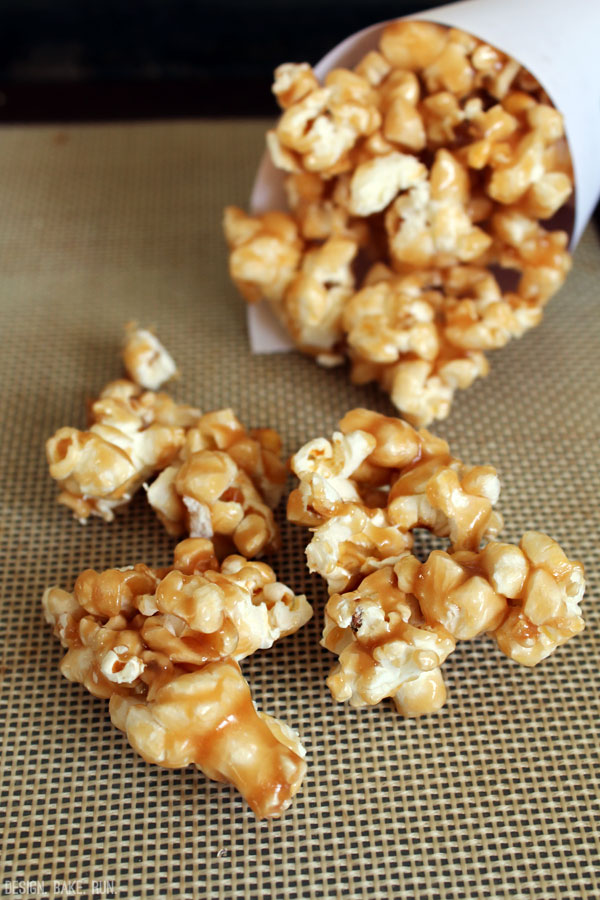 make these sweet stuff for your next birthday party or any occasion. they'll sure to be a hit. these definitely were for m's birthday party.
caramel popcorn
recipe adapted from the food network
ingredients:
2 tablespoons vegetable oil
2/3 cup popcorn kernels (or you can use two bags of microwave popcorn and omit the oil above)
2 cups apple juice
2 cups packed light brown sugar
1/4 cup light corn syrup
12 tablespoons (1 1/2 sticks) unsalted butter, cut into pieces
kosher salt
directions:
line 2 baking sheets with parchment paper (or a silpat will do too). if using popcorn kernels, heat the vegetable oil in a pot over medium-high heat. add the popcorn kernels; cover and cook, shaking the pan, until the popping subsides. remove from the heat and let any remaining kernels pop for 30 more seconds. if using microwave popcorn bags, follow the directions on the package. once popcorns are popped, divide the popcorn between the prepared baking sheets, discarding any unpopped kernels.
make the caramel: bring the apple juice, brown sugar and corn syrup to a boil in a large heavy-bottomed saucepan over medium-high heat. cook without stirring until the mixture is deep amber and a candy thermometer registers 280 degrees F, about 30 minutes (the caramel will bubble vigorously toward the end of the cooking time).
stir the butter into the caramel until melted. add 2 teaspoons salt and cook for another minute. remove from the heat. pour the hot caramel over the popcorn mixture and carefully toss with two rubber spatulas. let cool slightly, then separate the mixture into clusters while still warm. let cool completely.
note: i actually pour all my popcorn into a large bowl instead of putting them on the baking sheets. once the caramel was made, i pour those over the popcorn and tossed them while still in the bowl (kind of like making rice krispy treats). but the above method works too. i guess you can pick whichever is easiest. :)