i am still experimenting with different red velvet cupcake recipes. upon doing a quick search on the web for red velvet cupcake recipes, i came across sprinkles' red velvet cupcake recipe. these cupcakes here (the recipe i did in the end) were derived from that famous cupcake shop in los angeles. i also came across a whole bunch of others such as magnolia, ina gartin and martha stewart's but opted for this one instead. maybe sometime next week if i'm brave enough (more like have some time to make them) i'll try those other three and see which one(s) i like best. otherwise, this one may have to be the one.
now, having made these, i'm not sure if i've found one that i really like yet, but so far this one here is pretty close. i think i baked it a tad too long for my liking though. typically i bake all my cupcakes for only 17-18 minutes. with these, i accidentally set the timer to 20 minutes, then instead of resetting it, i told myself i would check the timer before the 20 minutes was up. well, i never did and sure enough, the cupcakes were in there a bit too long. they still turned out great, but personally, i wished i had taken them out at "just" the right time. oh well, will have to make these again and do it properly next time. now, everyone in the office did loved them, so you can say these were a success nonetheless. the cream cheese frosting with these were superb!
below's the recipe should you be interested in baking your own batch. i actually halved it because i only wanted to make 24 mini ones, not the entire recipe. enjoy! ;)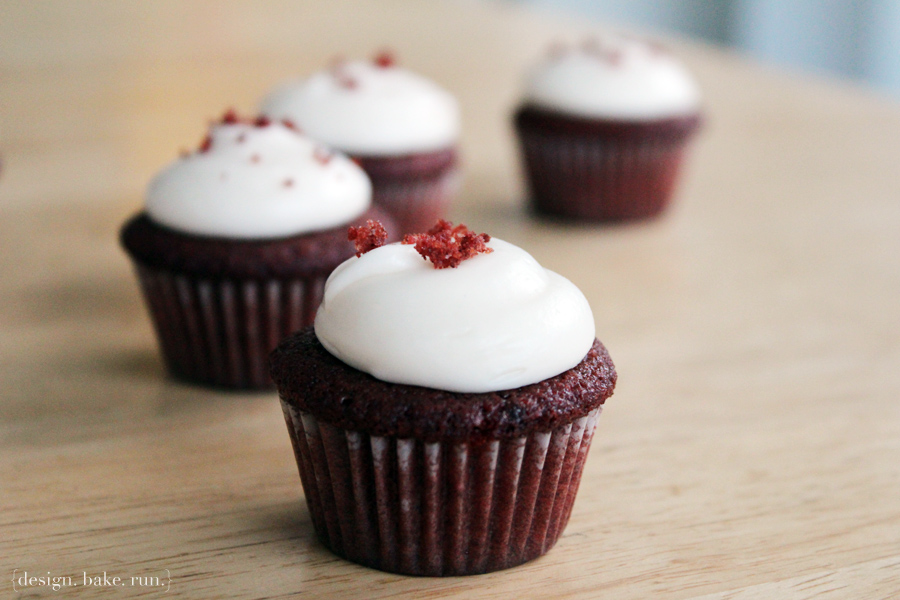 these cream cheese frosted mini red velvet cupcakes are so cute!
these cupcakes were a hit! yay! ;)
Red Velvet Cupcakes
adapted from Sprinkles Red Velvet Cupcakes
Ingredients:
1-1/3 cups all-purpose flour
3 tbsp cocoa powder
1/2 tsp baking soda
a pinch of salt
3/4 cup unsalted butter, softened
1 cup + 2 tbsp granulated sugar
2 large eggs
1/4 tsp red gel food coloring (you can use 1 tbsp liquid red food coloring if you prefer)
2 tsp vanilla extract
1/2 cup buttermilk
1 recipe cream cheese frosting, recipe follows
Directions:
Preheat oven to 350° F.
In a mixing bowl, whisk together flour, cocoa powder and baking soda, set aside. In a separate large mixing bowl, with an electric hand mixer on medium speed, whip together butter and sugar until pale and fluffy, about 3-4 minutes. Add in eggs one at a time stirring after each addition. (Now stand back and change out of any nice shirt you have on and) Add red food coloring and vanilla extract and mix until combine. Add milk and flour mixture to cupcake mixture, alternating in two separate batches, mixing until combine after each addition. Divide batter evenly among 15 paper lined muffin cups, filling each cup about 2/3 full. Bake in preheated oven 18-21 minutes until toothpick inserted into center of cupcake comes out clean. Remove from oven and allow to cool about 2 minutes in muffin tin, then transfer to wire rack to cool for 10 minutes, then transfer to an airtight container to cool completely (this just helps them retain more moisture). Once cooled completely, spread generously with Cream Cheese Frosting. Enjoy!
Makes 15 regular cupcakes or 48-52 mini cupcakes.
Cream Cheese Frosting
Ingredients:
1/2 cup salted butter, softened
6 oz cream cheese, room temperature
1/2 tsp vanilla extract
3 1/2 cups powdered sugar
Milk or cream if necessary
Directions:
In a large mixing bowl, using and electric mixer, whip together butter and cream cheese until pale and fluffy (about 1 minute on high speed, then 3-4 minutes on medium high speed). Mix in vanilla extract. Add powdered sugar and beat until smooth.