over the weekend we had another birthday party again (it was our third birthday party, three weekends in a row). to change up the food from weekend to weekend i went ahead and did these mini burger sliders. i knew i wanted to do little sliders, but wanted something different for the bun. you can say i didn't really want to shell out $5 for 12 or 24 dinner rolls. plus, those would be too big for what i was trying to do anyway. so what did i do instead? make my own buns? umm.. yeah, you can say that. now, these buns are not your typical bready buns. i have yet to bake a single loaf of bread in my life (i believe it'll happen some day, just not this past weekend, or today, or anytime soon).
for these one-bite mini burger sliders i actually used a drop biscuit recipe. the recipe came from cook's illustrated's website. i say it's pretty good. no, make it excellent! especially if you eat it warm. the biscuit was just delicious and the small size was great, making it the perfect little bite in one mouthful.
below's the recipe for the biscuit should you want to make your own drop biscuits. for these mini slider buns, i actually used a tiny circle cutter and shaped them to get the biscuits to the right shape and size (about 1 tbsp or 1-inch in size). of course you can do what i did if you're going the mini bun route or just leave them as is (drop biscuits). both variations will be just fine.
these one bite burger mini sliders turned out fantastic!
don't they just look so good?
this drop biscuit recipe makes for the perfect alternative to typical burger buns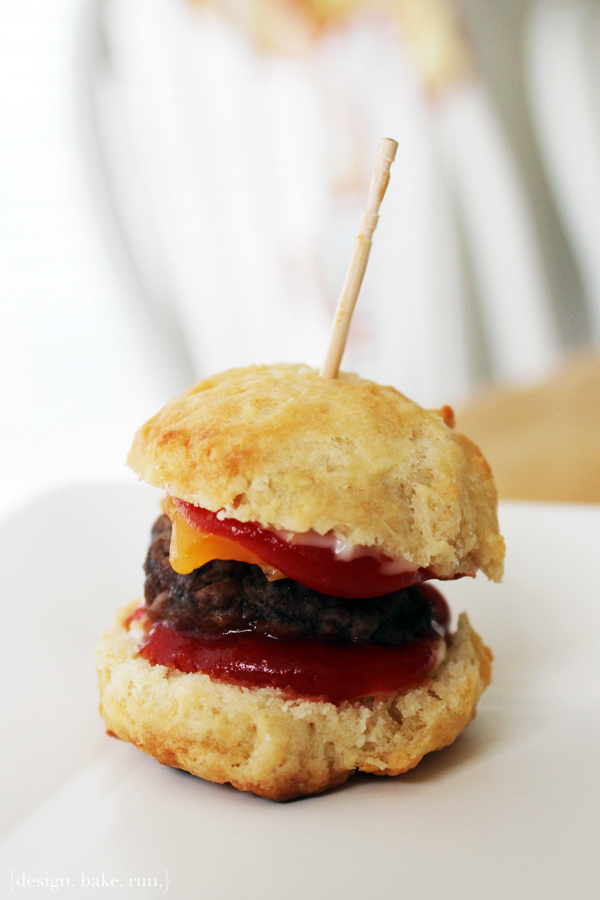 these biscuits are really good, especially right out of the oven when they're still nice and warm
best drop biscuits
recipe from cook's illustrated
INGREDIENTS:
2 cups unbleached all-purpose flour (10 ounces)
2 tsp baking powder
1/2 tsp baking soda
1 tsp sugar
3/4 tsp table salt
1 cup buttermilk (cold)
8 tbsp unsalted butter , melted and cooled slightly (about 5 minutes), plus 2 tbsp melted butter for brushing biscuits
DIRECTIONS:
Adjust oven rack to middle position and heat oven to 475 degrees F. Whisk flour, baking powder, baking soda, sugar, and salt in large bowl. Combine buttermilk and 8 tablespoons melted butter in medium bowl, stirring until butter forms small clumps (see tip).
Add buttermilk mixture to dry ingredients and stir with rubber spatula until just incorporated and batter pulls away from sides of bowl. Using greased 1/4-cup dry measure, scoop level amount of batter and drop onto parchment-lined rimmed baking sheet (biscuits should measure about 2 1/4 inches in diameter and 1 1/4 inches high). Repeat with remaining batter, spacing biscuits about 1 1/2 inches apart. Bake until tops are golden brown and crisp, 12 to 14 minutes.
Brush biscuit tops with remaining 2 tablespoons melted butter. Transfer to wire rack and let cool 5 minutes before serving.
Makes 12 biscuits. Enjoy!
Tip: When you stir slightly cooled melted butter into cold buttermilk, the butter will clump. Although this might look like a mistake, it's one of the secrets to this recipe. The clumps of butter are similar to the small bits of cold butter in biscuits prepared according to the traditional method and help guarantee a light and fluffy interior.