a couple of weeks ago i had the honor and pleasure of baking 100 mini cupcakes (50 chocolate & 50 red velvets) and 120 macarons (these photos to come later in another post when i have time) for one of my coworker's friend's wedding reception. the friend wanted to have a dessert table and have these goodies there. so with that said, i got baking a couple of days leading up to the big day. of course, not these cupcakes. these babies were made the night before/morning of the reception. i have to say they turned out beautifully and tasted yum!
below's the recipe should you be interested in making some yourself. i absolutely love this recipe. it has been my go-to chocolate cupcake recipe ever since i discovered it within the last year. it's also an egg-free recipe so it's perfect for anyone who's got an egg allergy. definitely cannot beat that. enjoy! oh, and if you do make some, please feel free to share your thoughts on it and how they turn out! ;)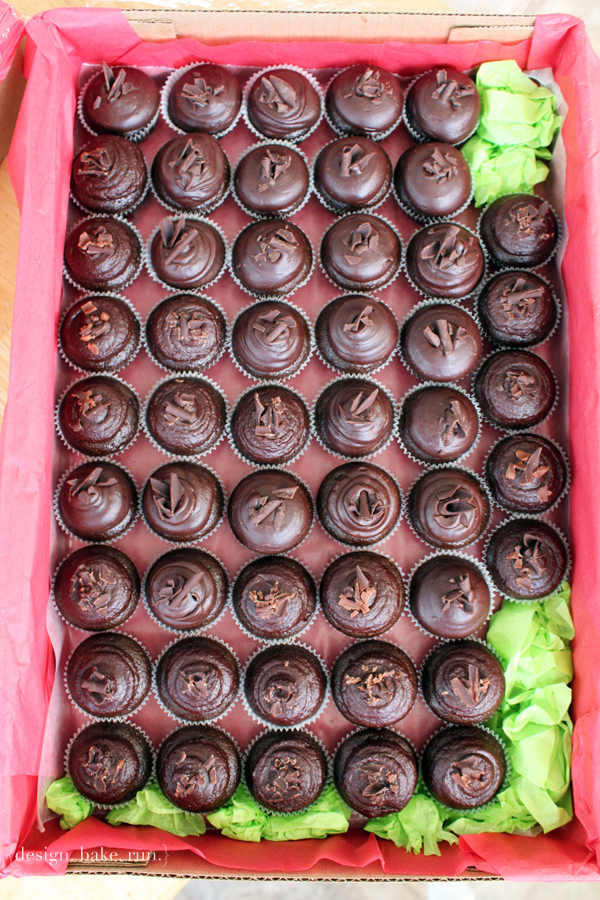 now, that's A LOT of chocolate cupcakes eh? and did i mention, they're eggless?! yup, so eat up! :)
a closer shot of these yummy one bite (or two!) cupcakes
i absolutely love this cake recipe. they turn out perfect every time and the chocolate ganache is just delish, especially for chocolate lovers.
mini chocolate cupcakes with chocolate ganache
cake recipe from here and ganache recipe from sweet savory life
chocolate cupcakes:
1-1/2 cups flour
1 cup granulated sugar
1 tsp baking soda
1 tsp salt
1/3 cup cocoa powder
1/2 cup oil
1 cup water
1 tsp vanilla extract
1 tbsp vinegar
chocolate ganache:
12 oz chocolate, chopped into small pieces
1 cup heavy cream
directions:
for the cake: mix all ingredients together until moist and well blended. put in mini cupcake cups and bake for 17-18 minutes at 350 degrees F.
for the ganache: place chocolate pieces in a large bowl. heat heavy cream on medium high until it comes to a boil. remove from heat and immediately pour cream over chocolate and stir until completely mixed and glossy. allow ganache to completely cool and set up. when you are able to spoon the ganache and it can hold its texture, it is ready for piping. pipe/frost and enjoy!
chocolate cake recipe makes 50 mini cupcakes (or 16 regular ones). ganache recipe makes 1-1/2 cups.