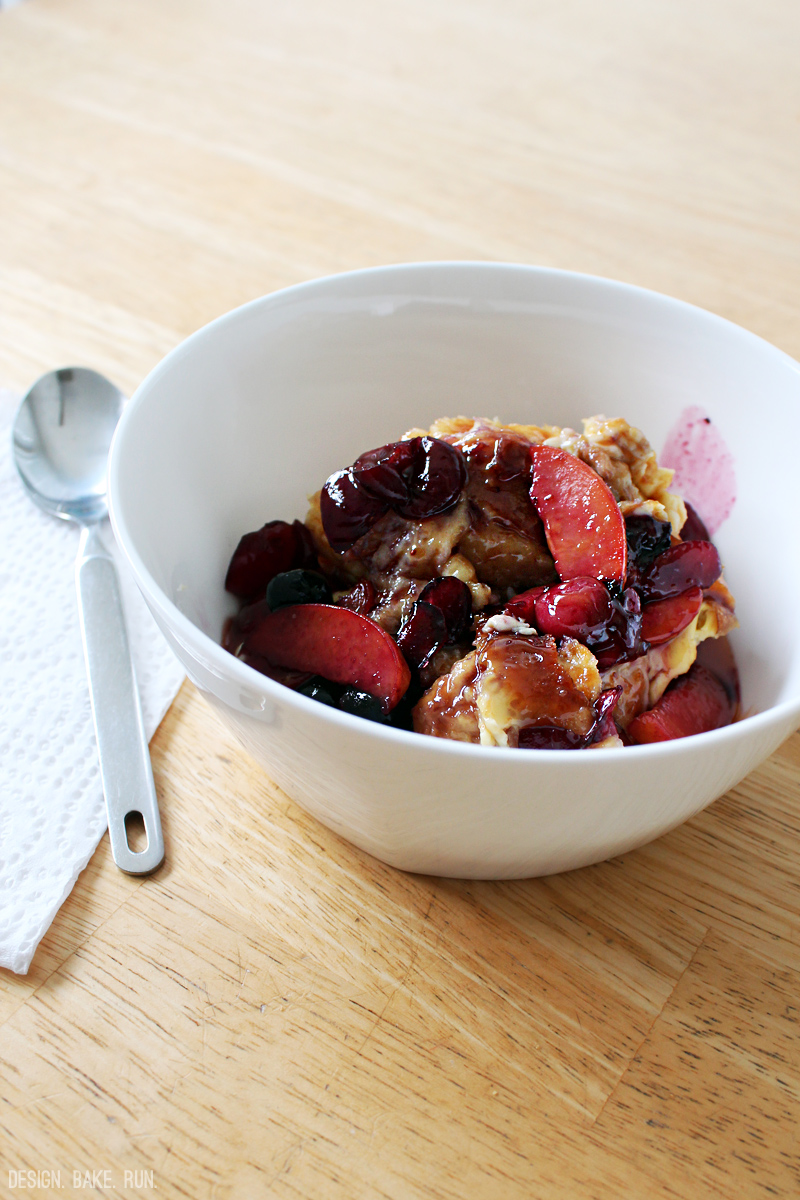 happy memorial day everyone and thank you to all of you who have put your lives out there (and/or still are) to serve and protect our beautiful country of u-s-a!
i love 3-day weekends. nothing particular about it, just the fact that i get one extra "weekend" day or two sundays as m calls it. now, with the weather being gloomy and all today, it was the perfect day to bake something delicious this morning. yesterday during one of my outings, i needed to stop at trader joe's to pick up some of their naan bread for m's chicken tikka masala he's making tonight for dinner. yes, someday we'll make our own naan bread to go with m's indian cooking, just not today. while i was there i noticed that they had some challah bread in stock. usually i always end up going to trader joe's at the end of the day and almost always they are out of challah bread. but nope, not yesterday. actually, that was probably because i went early enough in the day!
anyway, i bought the challah bread. why challah and not brioche? well, that's because they don't sell brioche anymore – i asked a while back and they said they're still trying to work out a deal w/ their bread vendor for brioche breads. i decided that it was finally about time i make tartine's famous bread pudding. and hopefully that it would turn out okay if not as good as the actual one from
tartine
itself?! well, sure enough i did make it this morning and i have to say, it was delicious! just as good as i remembered it, eating their bread pudding at the bakery. so, so good! i made the entire recipe (minus the making your own brioche bread of course!), from the bread pudding itself to the caramel sauce and even caramelized fruit toppings to add to it. oh, i have to say, it was seriously that good! even m was impressed and he said he doesn't care for bread pudding (hehehe.. that's because he grew up having to so much eat bread pudding as a kid and somewhat despises it these days). well, he said this bread pudding was quite good and if all bread puddings were like this, he wouldn't have a problem eating it. it's sort of like a yummy french toast. very rich and buttery – just yum, period.
below's the recipe if you want to make it yourself. i say it's totally worth a try. someday when i'm up to making bread (i can't be bothered because i don't have enough patient for it, waiting for the dough to rise, etc), i will make my own brioche and make this bread pudding again. otherwise, i'll stick to my store-bought or bakery-bought brioche or challah bread. yes, you can make tartine's brioche bread pudding with challah or croissant, and that's exactly what i did, using challah because brioche wasn't available. it's just as good.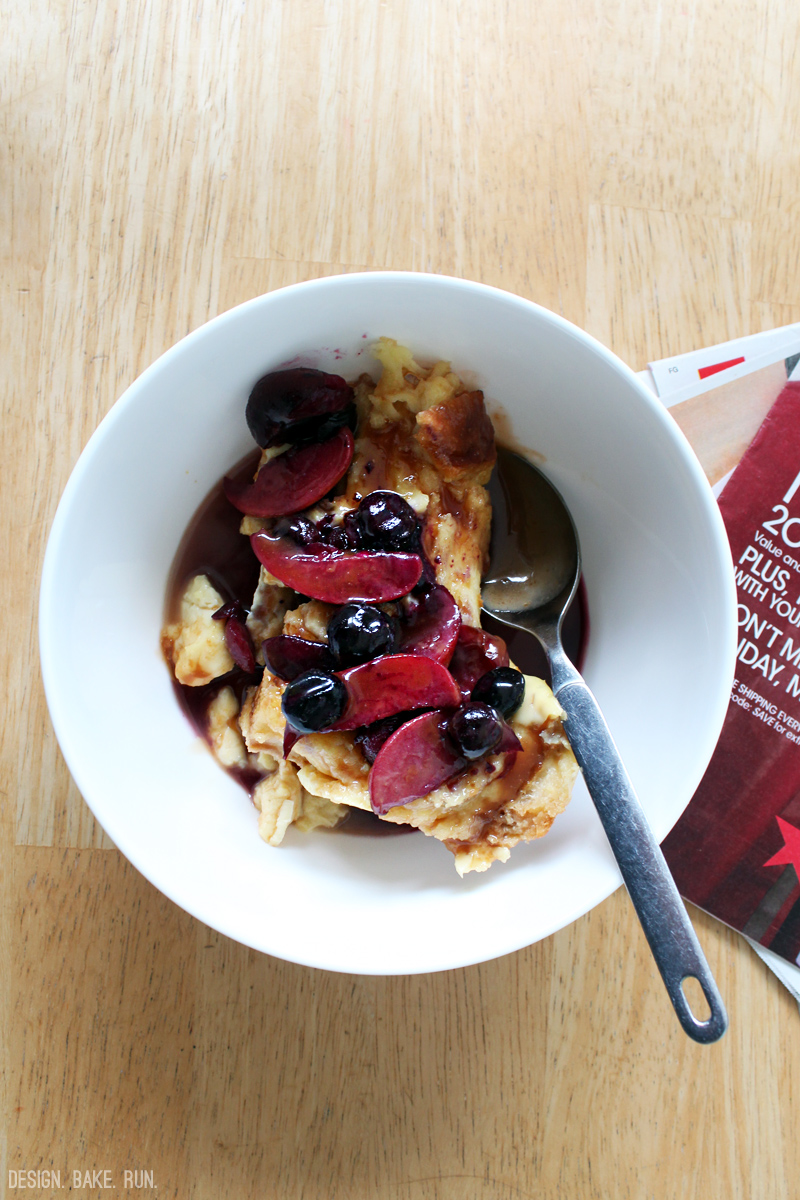 i had been eyeing this recipe for the longest time ever. and finally, i've made it! too bad no one else in my family likes bread pudding. i may have to share it with my coworkers.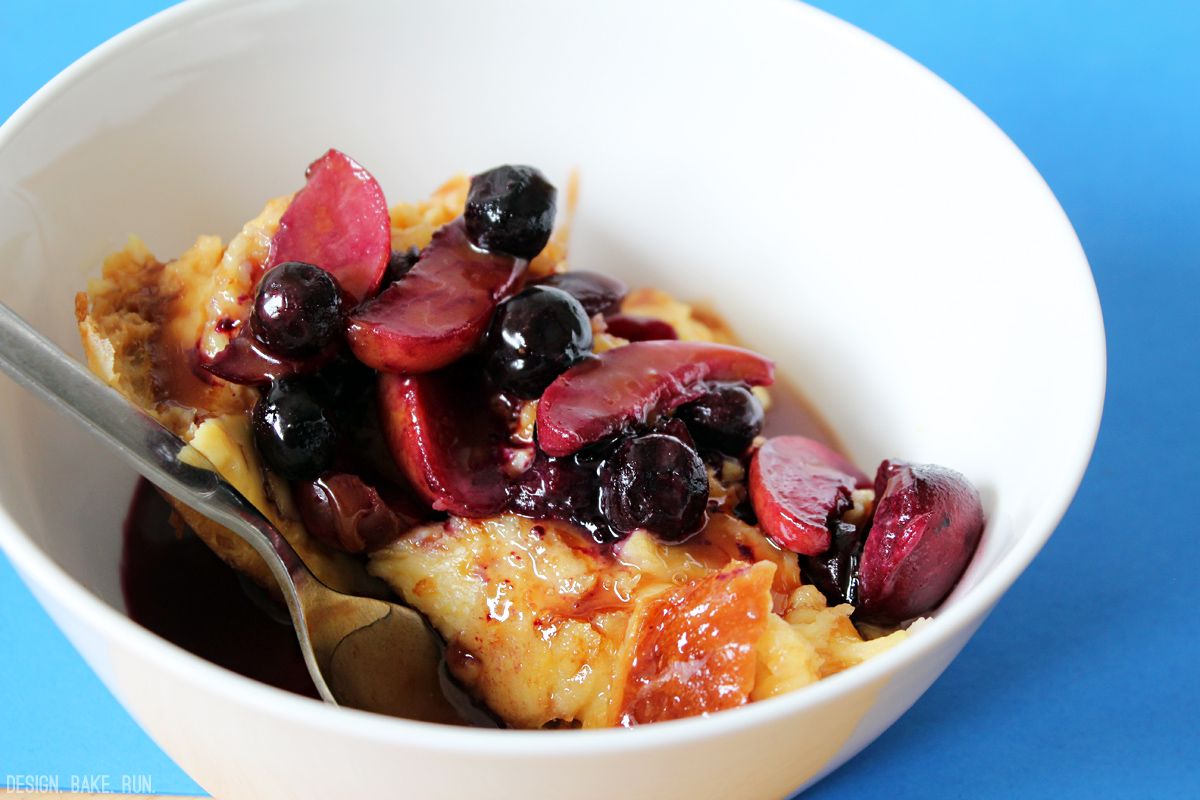 a close-up of all this yummy goodness.
tartine's bread pudding
recipes from tartine cookbook
bread pudding:
6 brioche slices*, cut 1-inch thick
8 large eggs
3/4 cup sugar
4 cups whole milk
1-1/2 tsp. vanilla
1/2 tsp. salt
caramel sauce (for topping):
2/3 cup heavy cream
1/4 of one vanilla bean
1-1/4 cup sugar
1/4 cup water
1/4 tsp salt
2 tablespoons light corn syrup
3/4 tsp lemon juice
4 tablespoons unsalted butter
directions for bread pudding:
Preheat the oven to 350°f. Butter a 9×5-inch glass loaf dish (i used an 8x8 glass dish and that works fine too!). Arrange the brioche slices on a baking sheet. Place in the oven until lightly toasted, 4 to 10 minutes. Remove from the oven and set aside to cool.
Crack the eggs into a mixing bowl and whisk until blended. Add the sugar and whisk until smooth. Add the milk, vanilla and salt and whisk until fully incorporated. Pour the custard through a fine-mesh sieve.
Place the toasted bread slices in the prepared loaf pan, cutting the slices to fit as needed. Pour the custard evenly over the bread, filling the dish to the top. You may not be able to add all of the custard at this point. Let the mixture sit for 10 minutes, so that the bread can absorb the custard.
Just before baking, top off the dish with more of the custard if the previous addition has been completely absorbed. Cover the dish with aluminum foil, place in the oven, and bake the pudding for about 1 hour. To test for doneness, uncover the dish, slip a knife into the center, and push the bread aside. If the custard is still very liquid, re-cover the dish and return the pudding to the oven for another 10 minutes. If only a little liquid remains, the pudding is ready to come out of the oven. The custard will continue to cook after it is removed from the oven and it will set up as it cools.
Let the pudding cool for about 10 minutes before serving. You can serve the bread pudding by slicing it and removing each slice with an offset spatula, or by scooping it out with a serving spoon.
Serve with fresh or sautéed fruit and caramel sauce (directions below). Makes 6-8 servings.
*note: you can use challah bread (which is what i did) or croissants if you can't find or have brioche available. both alternative bread options should yield a very satisfactory result. :)
directions for caramel sauce:
Pour the cream into a small, heavy saucepan. Split the vanilla bean in half lengthwise and use the tip of a sharp knife to scrape the seeds from the pod halves into the cream. Place over medium-high heat and bring to just under a boil, stirring occasionally. Reduce the heat to low to keep the cream warm.
In a medium, heavy saucepan, combine the sugar, water, salt and corn syrup. Bring to a boil over medium heat, stirring to dissolve the sugar. Then cook, without stirring, until the mixture is amber colored, 5 to 8 minutes. Remove from the heat.
The mixture will continue to cook off the heat and become darker, so make sure to have your cream close by. Carefully and slowly add the cream to the sugar syrup. The mixture will boil vigorously at first. Let the mixture simmer down, and then whisk until smooth. Add the lemon juice. Let cool for about 10 minutes.
Cut the butter into 1-inch chunks and add them to the caramel one at a time, whisking constantly after each addition. Then whisk the caramel periodically as it continues to cool.
The caramel will keep in an airtight container in the refrigerator for up to one month.
Makes 1-1/2 cups.
*note: Use a good-sized pan when preparing this caramel. When the hot cream is added, the caramel will boil furiously at first, increasing dramatically in volume. Have ice water nearby in case of burns.
for photos of the step-by-step, you can visit
Jun-blog
or
Alexandra's Kitchen
. they've got great photos. ;)