yes, i know, i've been MIA lately. but just because i haven't been blogging about any baked goodies or delicious eats doesn't mean i haven't been baking or eating good stuff, or designing or even exercising/running. actually, i have been with all of that. in fact, i've been baking a lot. i just haven't been taking any pictures and sharing them on here. that's because i can never find the time to take pictures of all the delicious eats i've been making. about the only time i can take photos of any baked goodies i make is in the morning and mornings around here are quite hectic with two little ones.
but yes, at long last, here is a yummy post. and if these photos aren't so great, it's because i took them with my phone this morning. so please, forgive me for the awful backgrounds and anything else that's imperfect about it. ;)
over the weekend my bro-in-law stopped by with a giant bag of freshly picked meyer lemons from his backyard. i kid you not, when i say giant, i mean one of those 13-gallon white garbage bag. it was halfway full at least, with who knows how many lemons. i know i've used about 1/3 of it already and there's still a ton left. so you see, my bro-in-law has this good-size (i don't think it's huge, but it sure produces a ton of lemons) lemon tree out back in his yard. it seriously is one lemon-producing machine because no matter how many branches he has cut off, the tree still finds ways to get more lemons out.
anyway, i decided to make use of the lemons. one of the things i've made with these lemons is this lemon loaf cake. i've made this recipe twice already in the last three days. it's pretty simple, so yes, piece of cake. i love how lemony this cake is. the amount of lemon juice is perfect and the added zest in the cake really makes all that lemon flavor stand out. i love how it uses both butter and oil and not just one or the other. the cake comes out just right and not dry at all. oh, to make it even more lemony is that added lemon glaze at the end. oh, so good. our house smelled delicious as the cake was baking in the oven. i couldn't wait to get it out and eat it while still hot. but yes, i was patient enough to wait until it cooled down to slice into it.
below's the recipe should you want to make it yourself. it's very easy and pretty straight forward. i've baked it twice already with minor adjustments and it hasn't failed me once (or twice). so go ahead and make some. these are delicious as an accompaniment to that afternoon tea or with your morning breakfast (i had it this morning w/ my iced coffee). enjoy and happy baking! :)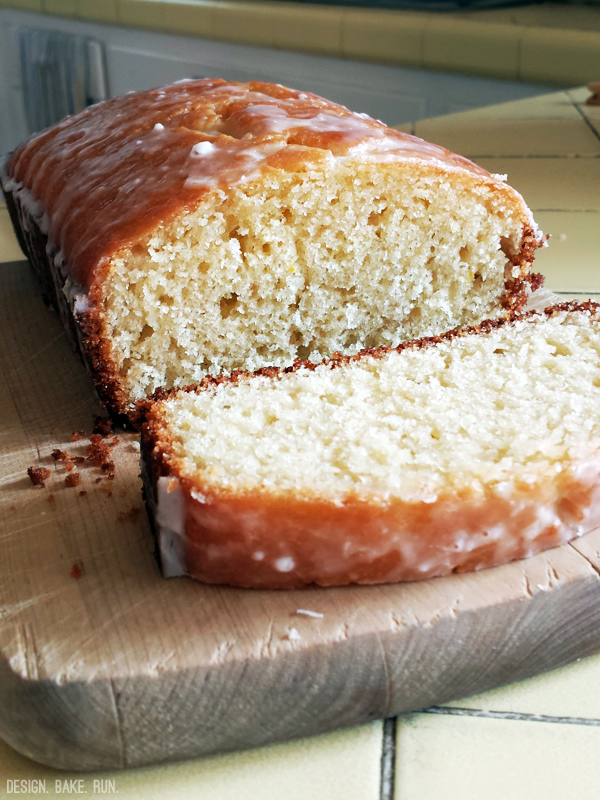 i love how lemony this cake is. it's the perfect treat with that afternoon tea or morning coffee.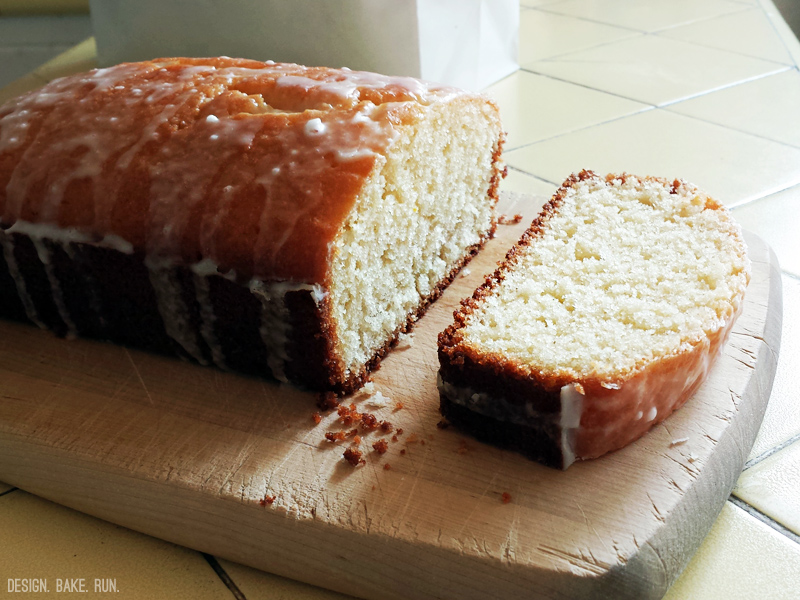 this lemon loaf cake is so easy to make. you can make it again and again and it'll turn out just perfect every time.
lemon loaf cake
recipe adapted from sugar loco
ingredients:
1-1/2 cup flour
1/2 teaspoon baking powder
1/2 teaspoon baking soda
1/2 teaspoon salt
3 eggs
1 cup sugar
2 tablespoons butter, softened
1 teaspoon vanilla extract
1/3 cup fresh lemon juice
1/2 cup oil
zest of one lemon
lemon glaze:
1 cup powdered sugar
1/4 cup lemon juice
directions:
preheat oven to 350°f. prepare 9x5 loaf pan or 6 mini pans.
in a large bowl combine flour, baking soda, baking powder and salt.
in a medium bowl combine eggs, sugar, butter, vanilla and lemon extracts, and lemon juice with a mixer. scrape bottom to make sure all is combined.
pour dry ingredients into wet ingredients and blend until smooth, scraping sides and bottom of bowl.
add oil and lemon zest. mix well.
pour into prepared loaf pan(s) and bake for 45 mins (9x5) or 25 mins (minis). note: i did the loaf pan and only baked mine for 43 mins and it was fine. but of course, every oven is different.
insert toothpick to test. if the toothpick comes out clean, they should be good and taken out of the oven.
once removed from the oven, let the cakes cool in the pan for 5 minutes.
while cake is cooling in the pan, prepare the glaze. combine both the lemon juice and powdered sugar and whisk to combine.
remove the cake from the pan(s) and onto a wire rack. make sure and put a cookie sheet or newspaper under the rack. pour glaze over the cake loaf. let the cake cool completely on rack.
once cooled, slice and serve. enjoy!
makes 10-12 servings depending on how thick or thin you slice it. cake is good for 1-2 days covered/wrapped (uncovered for me because i'm too lazy to cover it so we leave it uncover, plus it gets eaten within a day) at room temperature. it could probably go longer, but it might go dry as the days passes. enjoy! :)