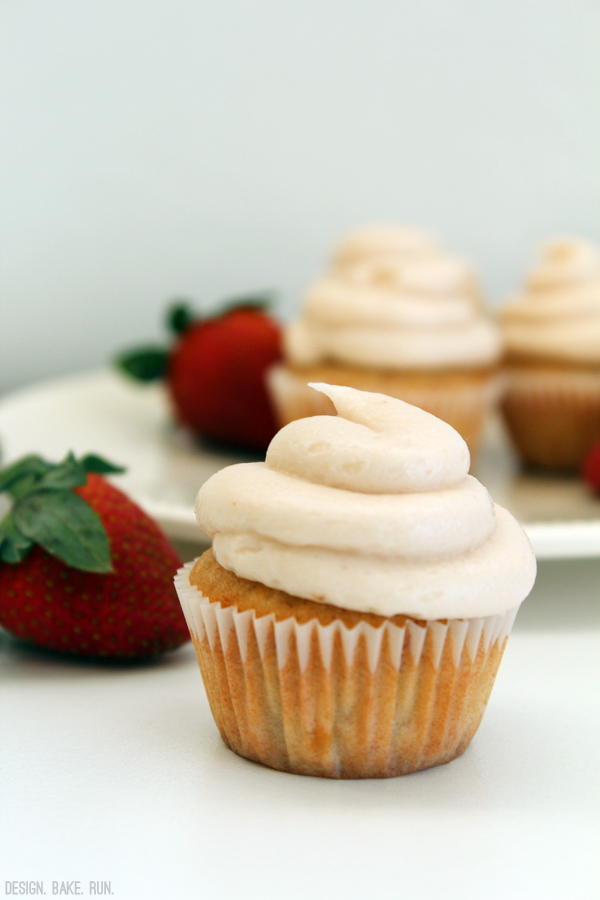 happy last day of february!
to close out the month, here are some (mini) strawberry-banana cupcakes with strawberry frosting. sometime last week we had a lone banana going brown. instead of making some banana muffins again or something else with banana i decided to do a take on a strawberry cupcake. i mean, add banana to it. a quick google search later, i landed on good old martha stewart's website. sprinkles strawberry cupcakes recipe, to be exact.
so here you have it. a take on their recipe, but with the pureed strawberries out for strawberry jam and some mashed bananas in, all topped off with a super simple strawberry buttercream frosting. you can't get any easier than this. no fancy blender required! this is my kind of recipe when it comes to using very minimal equipments. ;)
below's the recipe should you want to make some. it's quite good, i should say. you get both the strawberry and banana flavor in the cake. and the added strawberry buttercream frosting on top? that just makes it even better. i know the photos don't show much since you lose out the color once you mix the frosting together, etc... but the flavor is definitely there. i guess you can top it off with some strawberry and/or banana slices if you like. i personally couldn't be bothered to. so go ahead and make yourself some. enjoy and happy baking! :)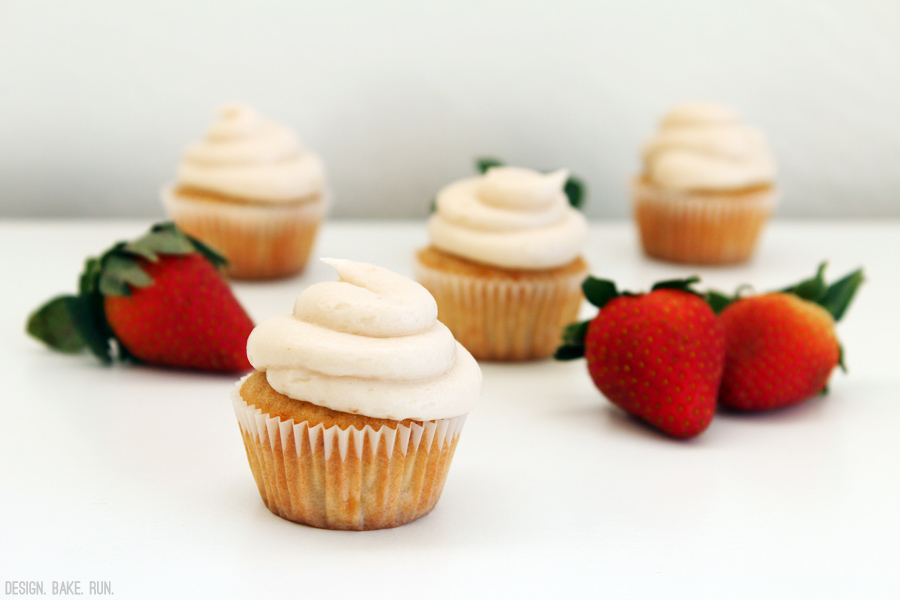 strawberry and banana are two fruits that pair well together. the strawberry frosting really balances out the strong banana flavor in the cake and makes for one sweet bite.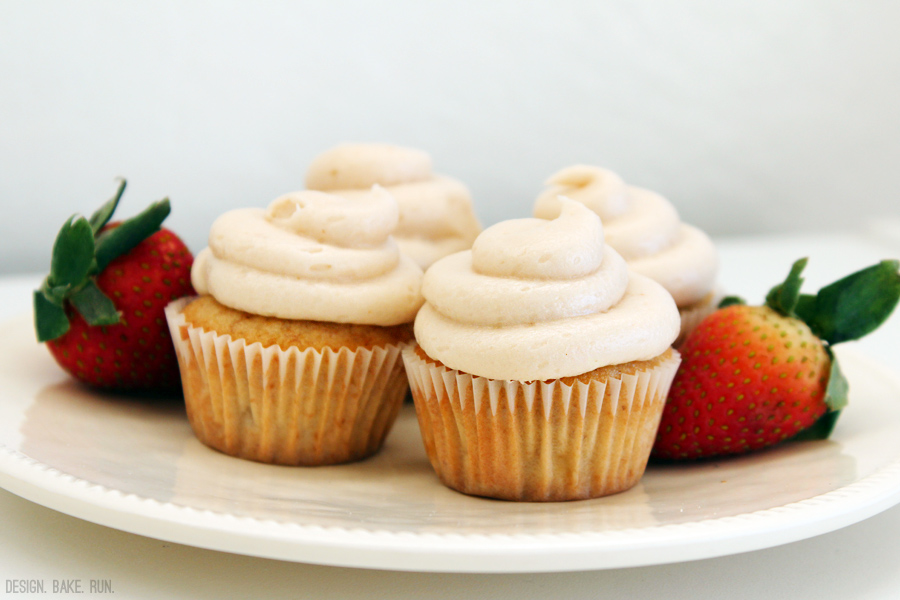 i love making one-bite cupcakes. these mini versions of a full-size cupcake gives you the same yummy taste and satisfaction of a standard size one, but for way less the calories.
strawberry banana cupcakes with strawberry buttercream frosting
inspired by sprinkles' strawberry cupcakes
ingredients
cupcake batter:
1 medium banana, mashed
2 tablespoons strawberry jam or preserves
1 1/2 cups all-purpose flour, sifted
1 teaspoon baking powder
1/4 teaspoon coarse salt
1/4 cup whole milk, room temperature
1 teaspoon pure vanilla extract
1/2 cup (1 stick) unsalted butter, room temperature
1 cup sugar
1 large egg
2 large egg whites
strawberry frosting:
1/2 cup (1 stick) unsalted butter, room temperature
3 cups powdered sugar
2 tablespoons strawberry jam or preserves
milk or cream as needed
directions
for the cupcake batter:
preheat oven to 350 degrees. line a 12-cup muffin tin with cupcake liners; set aside.
in a medium bowl, whisk together flour, baking powder, and salt; set aside. in a small bowl, mix together milk, vanilla, mashed bananas and strawberry jam; set aside.
in the bowl of an electric mixer fitted with the paddle attachment, cream butter on medium-high speed, until light and fluffy. gradually add sugar and continue to beat until well combined and fluffy. reduce the mixer speed to medium and slowly add egg and egg whites until just blended.
with the mixer on low, slowly add half the flour mixture; mix until just blended. add the milk mixture; mix until just blended. slowly add remaining flour mixture, scraping down sides of the bowl with a spatula, as necessary, until just blended.
divide batter evenly among prepared muffin cups. transfer muffin tin to oven and bake until tops are just dry to the touch, 22 to 25 minutes (or 15-16 minutes if making mini cupcakes). transfer muffin tin to a wire rack and let cupcakes cool completely in tin before frosting.
for the strawberry buttercream frosting:
in a good size bowl, cream together the butter and powdered sugar until somewhat combined.
then add in the strawberry jam and mix until fully incorporated and resemble the right buttercream consistency. if it's too thick, add a tablespoon of milk to the mixture at a time and blend it some more until you've reach the right consistency. if it's too thin, add in more powdered sugar.
frost the cupcakes and enjoy! :)
makes 12 regular size cupcakes or about 45 mini cupcakes.