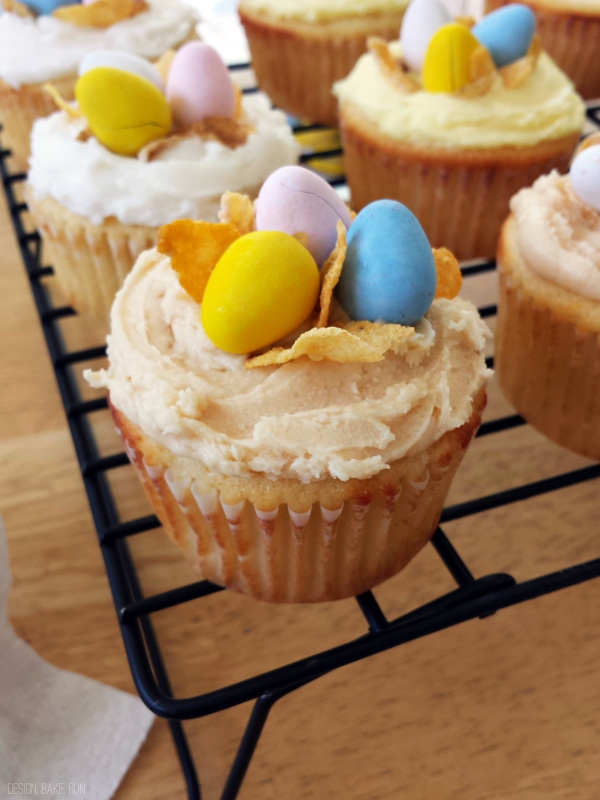 you know me. okay, maybe not really. but what i was going to say here was, i never like throwing any leftover ingredients out if it's still good and i know that i can make use of it. so as usual... you know, the typical mexican dinner night that calls for sour cream, well, there was a bunch leftover. so, what did i do with it? of course, bake with the leftovers!
what we have here is a super moist, waaaay delicious and perfectly sweetened vanilla cupcake; and nicely decorated for easter sunday (yes, this was our easter meal dessert – of course you can decorate it anyway you like for any occasion). i say you can skip the frosting if you want, because the cake out of the oven is seriously a yummy bite already. the sour cream in this recipe is superb. for sure better than your buttermilk or good ol' milk. the cake comes out perfectly baked and not dry at all. i love that the taste and texture stays true even a couple days later (yeah, sitting out on the counter... and so not in an airtight container! my bad).
this recipe is for sure a keeper in my opinion. if you'd like to see it for yourself, i say go ahead and give it a try. it's super simple to make. you can't mess up. i've made it two times in the last week and loved it every time. the only thing i wasn't too crazy about was that although the cake puffed up (rise) while baking in the oven, once you take it out and it cools, it falls back and dips just a tad. not totally crazy about that, but hey, i guess that's okay when it's so good. not too big of a deal especially if you're going to frost it. you won't be able to tell.
okay, enjoy! :)
vanilla cupcakes
recipe from here
ingredients:
1-1/2 cups all-purpose flour
1 cup granulated sugar
1-1/2 teaspoons baking powder
1/2 teaspoon salt
8 tablespoons unsalted butter (1 stick), room temperature
1/2 cup sour cream
1 large egg, room temperature
2 large egg yolks, room temperature
1-1/2 teaspoons vanilla extract
directions:
Adjust oven rack to middle position; heat oven to 350 degrees F. Line standard muffin/cupcake tin with paper or foil liners.
Whisk together flour, sugar, baking powder, and salt in bowl of standing mixer fitted with paddle attachment. Add butter, sour cream, egg and egg yolks, and vanilla; beat at medium speed until smooth and satiny, about 30 seconds. Scrape down sides of bowl with rubber spatula and mix by hand until smooth and no flour pockets remain.
Divide batter evenly among cups of prepared tin. Bake until cupcake tops are pale gold and toothpick or skewer inserted into center comes out clean, 20 to 24 minutes. Remove the cupcakes from tin and transfer to wire rack; cool cupcakes to room temperature before frosting. For frosting ideas, you can check out these recipes.
makes 12 standard size cupcakes. enjoy and happy eating. :)