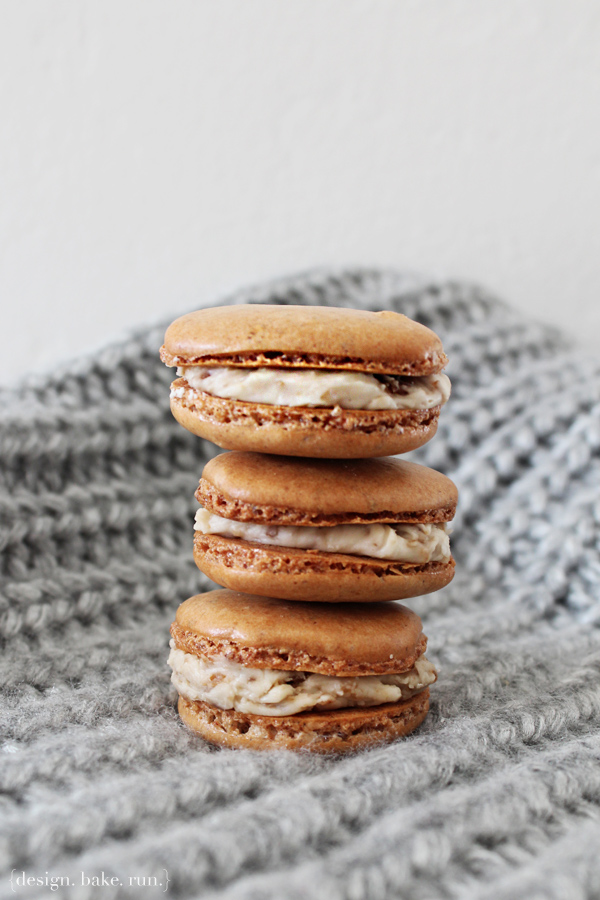 okay, so i was trying to make that delicious smelling and oh-so-yummy
browned butter toffee frosting
i made a while back for these macarons. i said i would try it again since it tasted so good last time. well, i did, except for it wasn't quite browned butter toffee. this time, let's just say i didn't let the butter brown enough and the brown sugar sat too long in that saucepan that it was much darker (and tasted a little burnt or more bitter than normal sugar). anyway, i quickly took it off the stove and pour the butter mixture into a mixing bowl to see what i got. sure enough, the brown sugar was definitely so much darker and as the mixture cooled, it began to hardened a bit (just as i'd expected). long story short, i decided to go with this anyway than making a new batch of the browned butter sugar mixture. the end result? quite a delicious buttercream i would say. i love all the crunch from the hardened melted brown sugar. the hint of burnt or bitterness from the sugar and sweetness of the butter makes it quite nice also. it's like this sweet but just a tad bitter butterscotch-y taste. all the flavors actually work very well together. m said it's his favorite macaron flavor to date. he's usually a tough critic when it comes to my baking (and cooking) so i'll take it. as for me? it's pretty awesome, i'll definitely be making this one again.
below's the recipe should you want to try it. these are really good, i can assure you. so make some and let me know what you think. as always, happy baking and eating!
i am in love with this browned butter burnt sugar buttercream filling. it's a little bitter yet sweet and has this buttersctoch-y taste to it and just taste really, really delicious!
browned butter burnt sugar french macarons
ingredients:
macaron batter:
1 cup powdered sugar
3/4 cup almond meal
2 large egg whites, at room temperature
1/4 cup brown sugar, firmly packed
browned butter burnt sugar buttercream filling:
4 tablespoons butter
3 tablespoons brown sugar
1-1/2 to 2 cups powdered sugar
cream or milk
directions:
to make the macaron batter/shells:
line two baking sheets with parchment paper and have a pastry bag with a plain tip (about 1/2-inch, 2 cm) ready.
sift together the powdered sugar and almond meal so there are no lumps. set aside.
in the bowl of a standing electric mixer (or if you prefer, you can use a bowl and hand mixer), beat the egg whites until they begin to rise and hold their shape. while whipping, beat in the brown sugar until very stiff and firm, about 2 minutes.
carefully fold the dry ingredients, in two batches, into the beaten egg whites with a flexible rubber spatula. when the mixture is just smooth and there are no streaks of egg white, stop folding and scrape the batter into the pastry bag (standing the bag in a tall glass helps if you're alone).
pipe the batter on the parchment-lined baking sheets in 1.35-inch circles evenly spaced one-inch apart.
rap the baking sheet a few times firmly on the counter top to flatten the macarons. then let it sit for at least 30-60 minutes depending on humidity before baking them in the oven. about 10-15 minutes before baking, preheat oven to 350 degrees F. bake for 15 minutes.
once macaron shells are out of the oven, let them sit for 30-60 seconds before removing the hot baking sheet underneath. let the macarons cool completely before removing them from the parchment paper.
for browned butter burnt sugar buttercream filling:
brown the butter in a small saucepan over medium heat. i say let the butter melt and hang out until it gets to that nice golden color and your kitchen smells delicious.
then add in the brown sugar and stir constantly until the sugar is dissolved. let it come to a boil if it's not already bubbly by now for an extra minute or two until you see the color really getting darker. it should be pretty dark by now. don't let it sit too long or else it will really burn or be too burnt! you want it to reach just burnt, not way over.
turn off the stove and pour the brown butter and sugar mixture into a medium size bowl. stir it a few times with a fork to cool the mixture a little bit.
add in the powdered sugar and with a fork (because that's what i use, but i guess you can use a hand mixer if you like) mix the ingredients together on low speed until they're all blended. you'll notice the sugar component hardening up. i just use the fork and try to break them up into bits. then turn to medium and mix until you've reached the right consistency for buttercream. add in a little cream or milk if it's too thick or more powdered sugar if it's too thin. once everything looks good it should be ready to use.
to assemble the macaron cookies:
before assembling these cookies, make sure to pair up all the cookie shells so they are as close as possible in size.
using a knife, spread a good amount of the brown butter burnt sugar buttercream on the inside of the macarons then sandwich them together.
let them stand at least one day (keep them refrigerated) before serving (serve at room temperature), to meld the flavors.
store in airtight container for up to 5 days. makes 20-24 macarons. happy eating because these are really, really, good! :)