a while back one of my coworkers brought in this delicious apple tart. it is definitely one of the best if not the best apple tart i've ever had. so good that i had to make one myself so m and my MIL can confirm it with me. and since i had made that
lemon cream tart recipe
from tartine and had 3 extra pie/tart dough leftover, why not?! the sweet tart dough would be perfect for this apple tart recipe.
this recipe was adapated from
dalloyau
, a very well known and popular pastry company in paris and comes from dorie greenspan's
paris sweets
book. of course, i missed out on tasting all the goodies from dalloyau the last time i was there. one, let's just say i wasn't aware of them as i am now and two, i'd been eating paris sweets literally every day we were in paris. i know, i was too spoiled. i remembered we even walked pass dalloyau's pastry stands inside galeries lafayette (the giant shopping mall in paris). they had so many opera cakes, macarons and every pastry you can possibly imagine! but at the time i remembered all i wanted was real food (no more sweets, at least at the time anyway) and opted for some thai food. i know, thai food in paris (kind of disappointing huh?). but this place is for sure on my to-eat-list the next time i'm in paris. i can't wait to go back and try everything (okay, maybe not everything, but almost?!) on their menu.
so, what's
sooooo
good about it? let's just say not only do you get these nicely sauteed caramel-y sliced apples, but the added almond cream with the apple is just delish. it's really THAT good! i've never had a tart with almond cream before and i have to say, the almond cream makes a giant difference. it's a nice added sweetness to the tartiness of the apples. ever since i've made the almond cream in this tart recipe, i've been making the almond cream and putting it on everything! it's super simple that you can whisk up in a few short minutes. one of my personal favorites i like to put the almond cream on is french toast. it's sort of like a take on those delicious bostocks i had at b. patisserie a while back, but homemade and just as good. i'll have to put up a post on these later at some point, but for now… let's enjoy this delicious apple tart.
oh, so what did m and my MIL say? they
loved
it. like absolutely loved it! m said it's the best he's ever had and the only kind of apple tart or pie he'll ever eat! we're for sure adding this to the list of many baked goodies we make during the holidays. he loves the sweet dough tart with the apples. it's like a nice shortbread crust that compliments the apples and almond cream nicely. i told him i could also make it with puff pastry sheets as the pie crust but he said no. the sweet dough tart is perfect and loves the apple tart exactly the way i had made it. so i guess i'll stick with what i have.
below's the recipe if you'd like to make it. seriously, it's the best apple tart ever! :)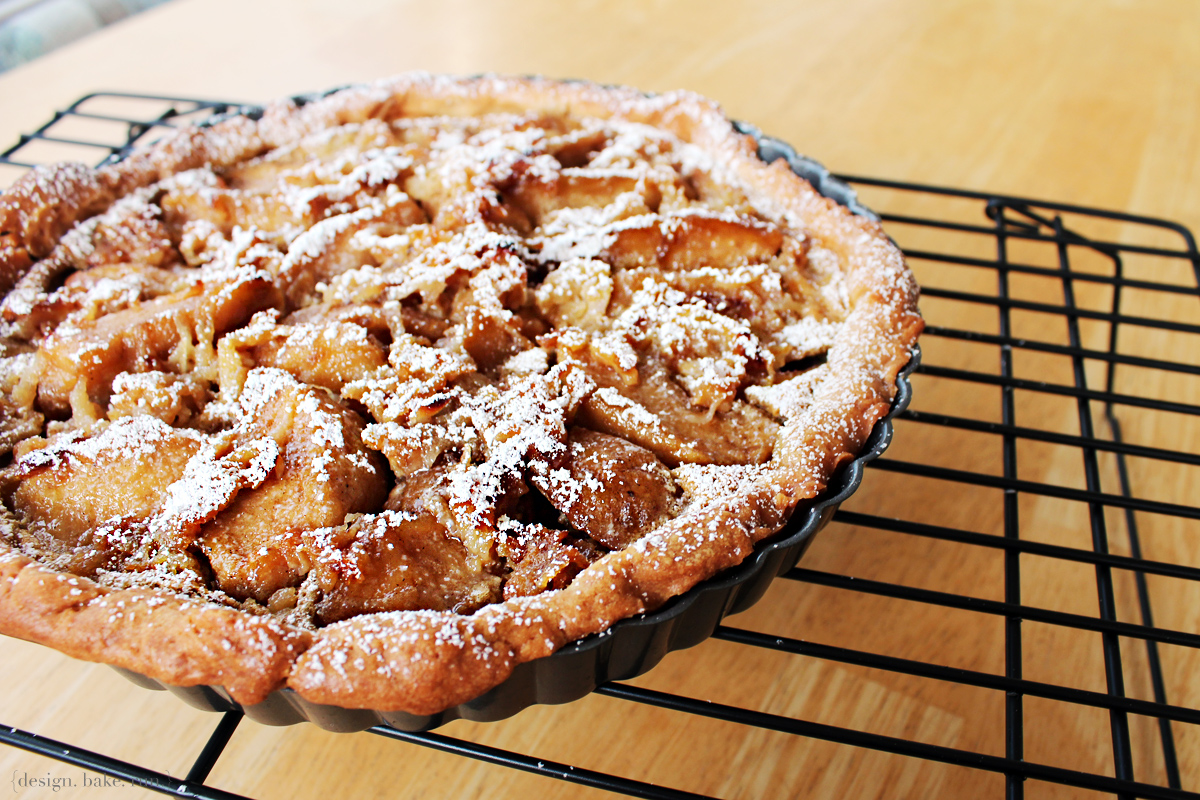 this is really the best apple tart ever. even if you don't like apple pies or tarts, i say you should still give this a try. the almond cream will make you fall in love with it. really.
a close-up shot of a tart slice. seriously, so good. i can't wait until we go to paris again so i can really hit up dalloyau and have an actual slice made from the recipe maker themselves!
as i was taking a shot of this slice, little miss v couldn't help it. she wanted to get a piece (or this piece) of this delicious apple tart!
tarte aux pommes au four
dalloyau's baked apple tart recipe from sabrina ko's blog
ingredients:
the almond cream:
1-1/2 tablespoons (3/4 ounce; 20 grams) unsalted butter, at room temperature
1 tablespoon sugar
1/4 cup (30 grams) ground almonds
1 large egg, preferably at room temperature
2 tablespoons (30 grams) heavy cream
1 tablespoon calvados or apple brandy (or 1 tablespoon pure vanilla extract)
the apples:
6 large apples (2-1/4 pounds; 1 kilo), preferably Fuji or Granny Smith, peeled and cored (note: if you want to skip the grated apples part, you can use 4-5 apples instead)
7 tablespoons (3-1/2 ounces; 100 grams) unsalted butter (note: this can also be reduced without much sacrifice to the taste. i actually halved the butter here and it still came out delicious!)
1/2 cup sugar (75 grams)
2 tablespoons calvados or apple brandy (or 1-1/2 tablespoons pure vanilla extract)
the crust:
1 unbaked 9-inch (24-cm) tart shell made from sweet tart dough (
recipe here
) or you can use puff pastry (homemade or store-bought)
confectioners' sugar for dusting
directions:
the apples:
center a rack in the oven and preheat the oven to 350°F (180°c).
cut 4 of the apples in half and slice each half into thirds. grate the remaining 2 apples on the coarse side of a box grater (you can skip the grating if you like – i didn't though).
melt 1 tablespoon of the butter and 1 tablespoon of the sugar in a large skillet over high heat. add the grated apples and cook, stirring, until they are golden brown, about 3 minutes. using a slotted spoon, transfer the apples to a plate (if you skipped the grating, you can skip this step). add the remaining 6 tablespoons (85 grams) butter and the rest of the sugar to the pan and, when the butter is bubbling, toss in the apple slices. cook the apples, stirring frequently, until they are lightly caramelized, 5 to 7 minutes. pour in the calvados, turn off the heat, and carefully touch a match to the liquid. when the flames die down, pull the pan from the stove. (note: if you don't have the calvados, you can just add in the vanilla extract after turning off the heat. no need for lighting up a match or anything like that.)
transfer the apple slices to a baking pan (or keep them in the skillet if it is ovenproof) and bake for 20 minutes, or until they are almost cooked through. cool for 30 minutes.
while the apples are baking, make the almond cream. working in a medium bowl with a whisk, beat the butter and sugar together for a minute or so, until the sugar dissolves and the butter whitens a little. whisk in the almonds, then the egg, beating until the mixture is blended. finally, whisk in the cream and calvados (or vanilla extract). cover the bowl and refrigerate until needed. (the cream can be kept covered in the refrigerator for up to 3 days.)
to assemble the tart:
position a rack in the lower third of the oven and preheat the oven to 350°F (180°C). line a rimmed baking sheet with parchment paper and put the tart shell on the sheet.
spoon the almond cream evenly into the crust. top with the baked apples, arranging them attractively in a single layer. check the grated apples—if they are wet, press them either between your palms or between paper towels. fluff up the grated apples with your fingers or a fork and arrange them over the apple slices, leaving a bare border of an inch (2.5 cm) or so.
bake the tart for 40 to 50 minutes, or until the almond cream has puffed and the apples are beautifully browned. cool the tart on a rack; unmold and serve it when it is either just warm or at room temperature. dust the tart generously with confectioners' sugar right before bringing it to the table.
notes:
while all of the elements can be prepared ahead, once the tart is assembled, it should be baked immediately, and once it is baked, it should be served soon thereafter.
this tart is perfect on its own or if you prefer, is also delicious with either a bit of crème fraîche or vanilla crème anglaise. but in our household (being the very english people we are! hehe) we have it with evaporated milk and it's delish! of course, a giant scoop of good ol' vanilla ice cream is yummy as well. i do love my vanilla ice cream. :)
makes 8 servings. enjoy!