i had the luxury of working from home this afternoon. actually, it was because i needed to pick c up from school as m couldn't do it today. when i got home around lunch time i had about 15 minutes to spare before it was time to pick up c. i had been craving some chow mein noodles these past few days but have yet to satisfy my cravings. with that 15 minutes i decided that i would somehow attempt to make some kind of noodle stir-fry dish. i had some udon noodles in a vacuum sealed-type pack that i picked up from the chinese supermarket many trips ago sitting in my pantry. those noodles are all ready to go. you just need to heat it in hot water for 3 minutes before adding it to your stir-fry or soup broth if you're making noodle soup. i also had some leftover pork sausage i made the other night sitting in the fridge. so i decided why not use those up in this noodle stir-fry.
okay, i suck at telling stories. to get to the point, i whipped up this udon noodles stir-fry dish with simple ingredients i had lying around the house in less than 10 minutes (5-7 minutes probably?!). it's so simple. literally a piece of cake. you can make it too. it's so easy and makes such a delicious meal in less than 10 minutes (for one or two, or more people)! so if you'd like to try, the recipe is below. just note that i only wrote it up for one serving as that's what i made today. you can double or triple it for more people. so go ahead and let me know what you think. oh, and just as a disclaimer, they don't taste like chow mein. the three sauces i used actually is a bit on the sweet side. so if you want to balance it out, i'm sure you can throw in a few drops of soy sauce or fish sauce. oh, and a squeeze of lime would be great too actually. ok, enjoy and happy cooking and eating! :)
i can't believe how easy it was to make this noodle dish. so simple and quick, and it turned out great! just exactly what i was craving for.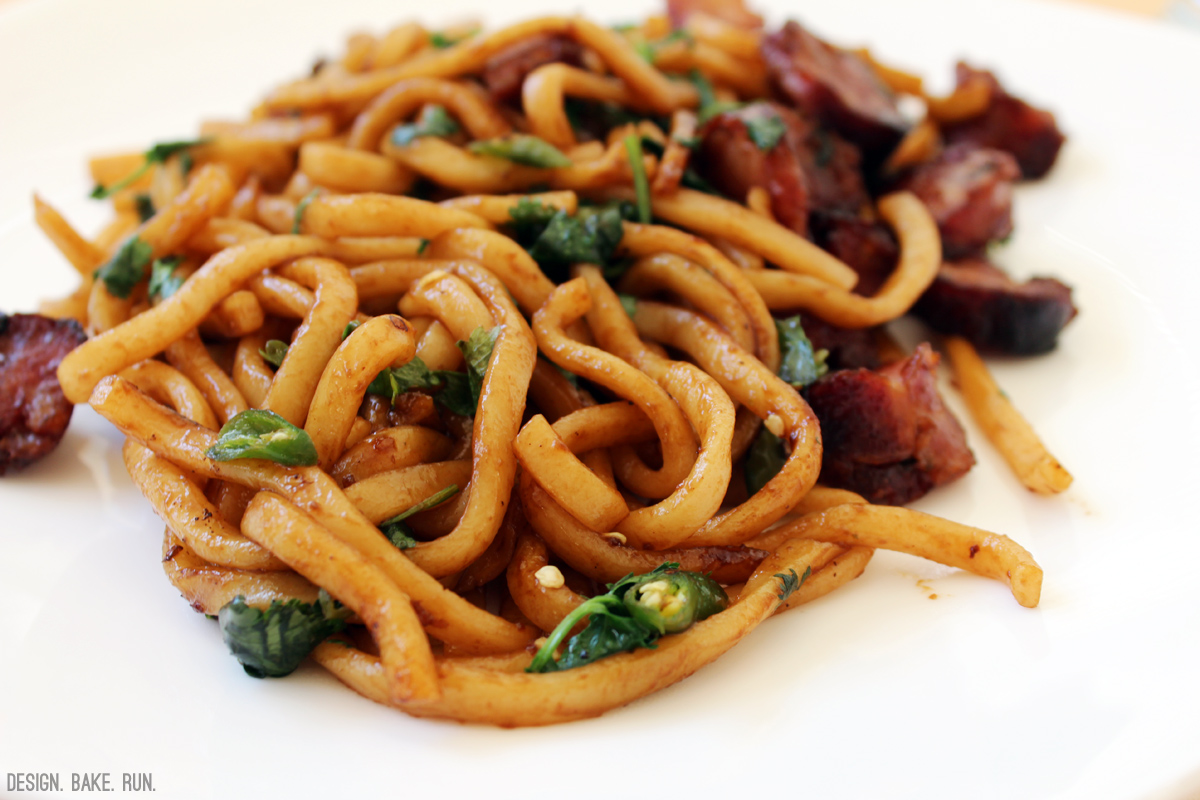 a close-up shot of the udon noodles. so. good.
udon noodles stir-fry with pork sausage
ingredients:
1 pack of udon noodles (similar to this)
1 cooked pork sausage (or any sausage or meat, just not italian flavoring or whatever, unless you don't care about the different ethnic flavor combos)
1-2 teaspoons of hoisin sauce, sweet sauce, and oyster sauce (you can find these at any asian supermarkets or in the asian/ethnic foods section of your local supermarket)
for garnish: a few sprigs of cilantro and 1-2 thai chili peppers (optional if you like a little heat)
directions:
put noodles in a microwaveable bowl with enough water so that there isn't any noodles sticking up. heat it in the microwave for 3 minutes (or you can just follow the instructions on the package, that works too).
while the noodles are heating, heat up a 10-inch skillet pan on the stovetop (medium temp). then cut up the sausage into pieces and toss it into the pan. stir-fry it for a few minutes or so.
once noodles is done in the microwave, drain them and add them to the pan. also add in the teaspoons of sauces and mix until everything is combined. then let it cook for a minute or more until it looks like the noodles and sausage is caramelizing (or looks like the pictures above anyway). then turn off the heat and garnish with cilantro and thai chili peppers (optional).
makes 1 serving.
note: for 2 or more servings, you can just double or triple the ingredients. just be careful with the sauces and add them in slowly as everyone is different on their sauce preference (heavily sauced or just a touch).