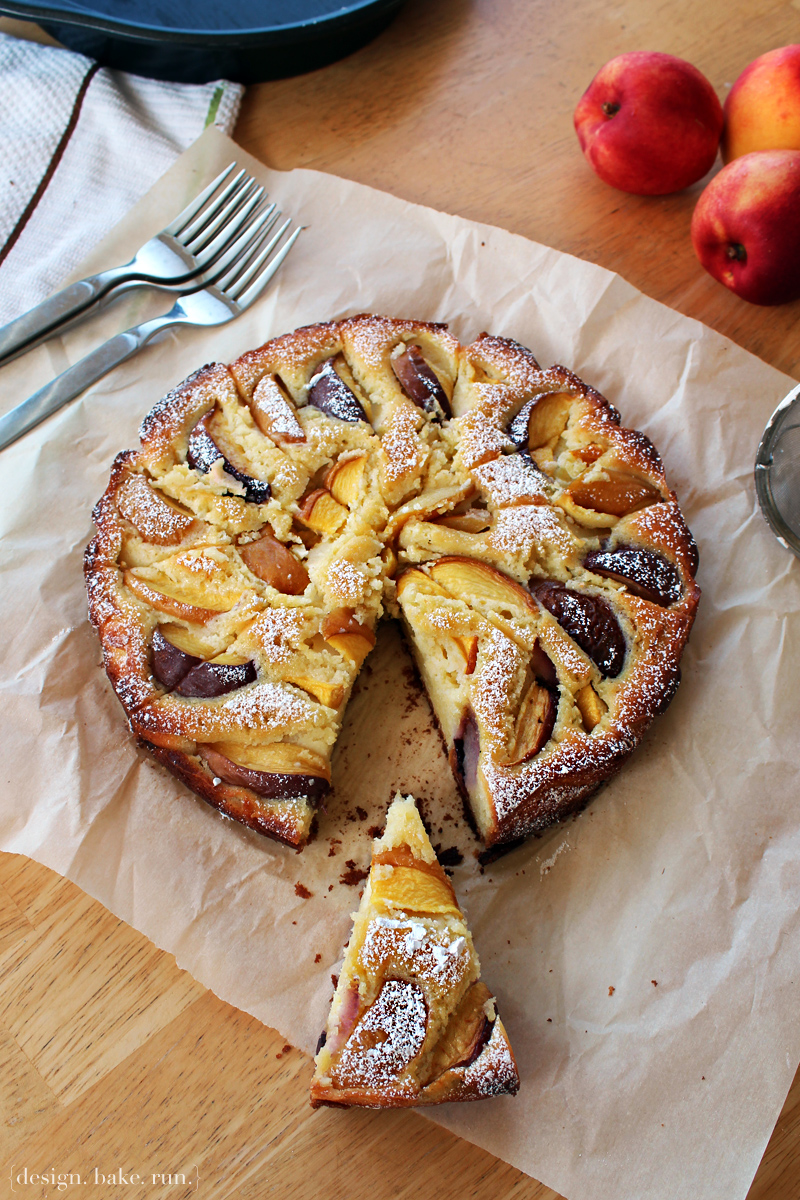 this past weekend was easter weekend. c and i made a quick trip to visit my mom and came back before easter sunday. before we went up i knew i wanted to bake some goodies and bring it to them. actually, my family isn't very big on sweets or any baked goods. must be a cultural thing. i never grew up craving candy, desserts or delicious baked goods. we never had afters (dessert) after a meal or afternoon tea with pastry (unlike m's because he grew up very english with tea time, afters and all). it wasn't until i met m and had c that i eventually acquired or grew to like all these delicious baked goodies. now, i'm a big fan of very well made pastry and sweets. it's a big deal in our house these days.
okay, so back to what i was saying. yes, my mom doesn't really care for very sweet things so i decided to bake her this peach cake (okay, more like nectarines because that was all i had in the fridge and needed to use them up before they went bad). i still had 6-7 nectarines lying around in the fridge that i had bought a week or so back. they were really firm when i got them (that's how i like my peaches and nectarines). they were still firm, but i knew they would be going if i didn't eat them or use them up somehow. upon a quick search on pinterest, i saw a recipe for a
peach cake
. the recipe and ingredients looked simple enough so i decided to go ahead and made it.
so, how was it? pretty good. if you're not a sweets fan, i say you'll like this cake. actually, even if you are, it's good to change it up. the texture of the cake is just perfect and i love the added bite of the fruit. i like how the nectarine slices kept the cake nice and moist. the dusting of the powdered sugar on top adds an extra bit of sweetness and finishes the cake really well. my mom loved it – and i'm really shocked because she almost always never eat any baked goods. and she ate like three slices! that says a lot. hehehe ;)
below's the recipe should you want to try it. let me know what you think. enjoy and happy baking!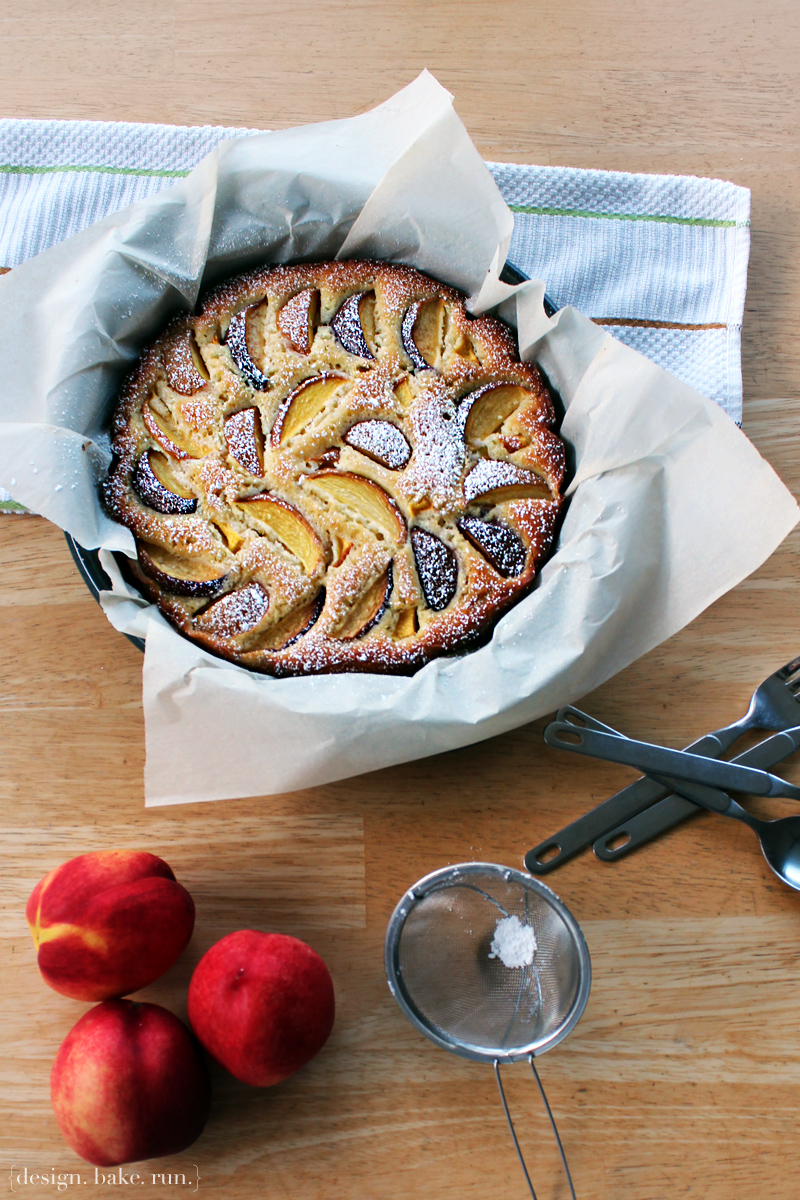 my mom loved this peach cake. the simple confectioners' sugar dusting at the end adds a nice touch of sweetness to this simple, yet very elegant looking cake.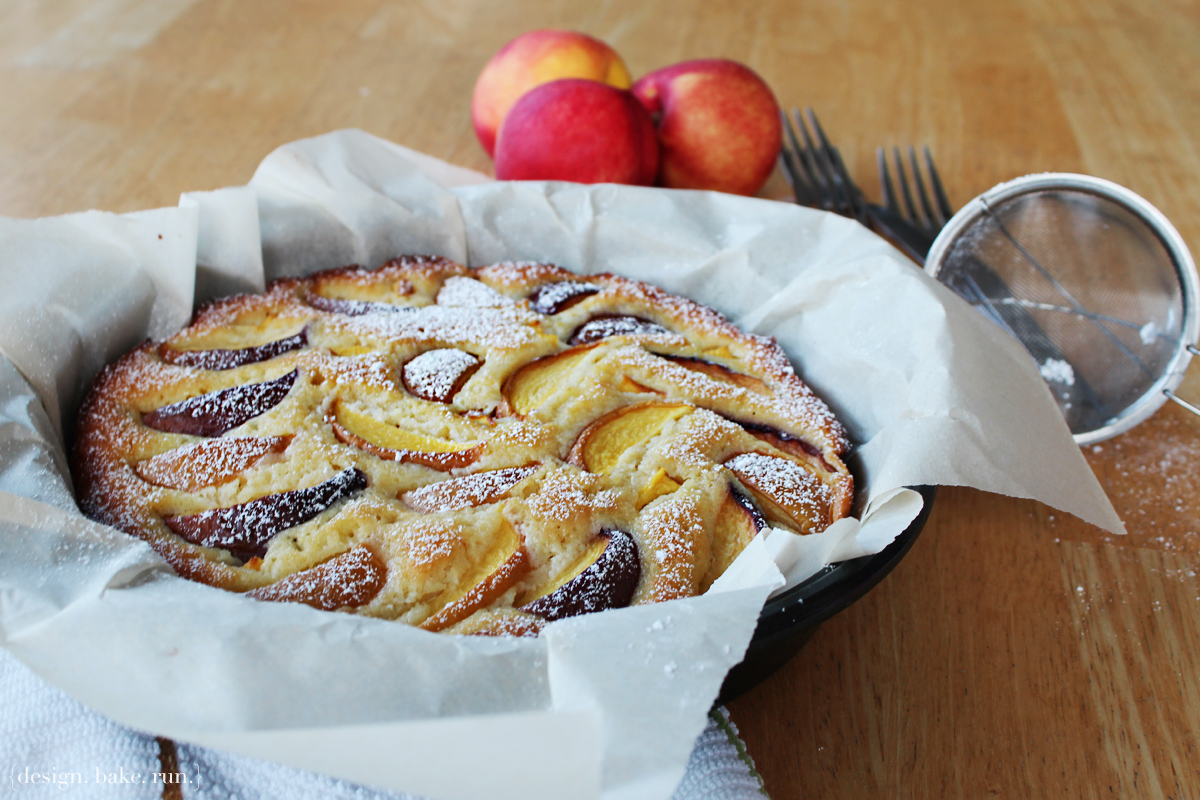 i say this peach cake would go very well with any afternoon tea or brunch. or any occasion, or no occasion at all! hehe
lemony peach cake
recipe from donna hay
ingredients:
1-1/2 stick (175g) butter, softened and chopped
3/4 cup (165g) caster (superfine) sugar
2 tablespoons finely grated lemon rind
3 eggs
1 cup (150g) plain (all-purpose) flour, sifted
1 teaspoon baking powder, sifted
3/4 cup (70g) natural yoghurt
3 peaches, sliced
powdered (confectioner's) sugar, for dusting
double (thick) cream, to serve
directions:
preheat oven to 325°F (160°C). place the butter, sugar and lemon rind in the bowl of an electric mixer and beat for 6–8 minutes or until light and creamy.
gradually add the eggs, beating well after each addition. add the flour, baking powder and yoghurt and beat until just combined.
spoon into a lightly greased 9-inch (25cm) round cake tin lined with non-stick baking paper. top with the peaches and bake for 1 hour or until cooked when tested with a skewer. allow to cool for 10 minutes in the tin, then turn out onto a wire rack to cool. dust with powdered sugar and serve with cream.
serves 6. enjoy and happy eating! :)