over the weekend during one of my grocery shopping outings i came upon some clotted cream. i know, clotted cream in an american grocery store!?!! i mean seriously, i have never ever seen or even knew what one of those things look like. i've shopped in mini british shops where they usually have british goodies (typically your jams, candies, chocolates, etc) or the international aisle in grocery stores, but had never came across any clotted cream until this weekend. sure, i've heard plenty about them in my household, but had never had the opportunity to taste them – i know! even after being in england last year and the time before that as well down in cornwall (yes, i was in cornwall and i didn't even get to eat scones with clotted cream!). anyway, long story short, i bought one jar of clotted cream right off the bat. of course, i actually put two in my basket then decided i would only need one and if i needed more, i could come back for more. sadly, i went back the next night and they all disappeared. i was so disappointed. i swore i saw at least 6-8 jars of them still on the shelf. really, who came and bought them all? i mean, within a 24-hour time span? seriously!!?! i couldn't believe my eyes when i went back and discovered they were all gone. i didn't bother asking the store about them because i knew they wouldn't have any left. if it was gone, it was gone. boo hoo. i know i will be very sad when all the clotted cream is gone or when we have to throw it out (because it's only good for 5 days once you've opened it) because i don't know when i'll get to have it again, especially here in the states. ahhh! that just mean we have to plan a trip to england. hehe ;)
now, that very night i got the clotted cream i came home and baked up a batch of your traditional english scones. yes, the ones where there aren't any eggs in them. actually, there are so many scone recipes out there, some with eggs, some without, some with no butter and just cream and some with butter but no cream (milk instead)… lots! i did a quick search online and came across one on
bbc good food website
. this one sounds simple enough and i had all the ingredients needed so i went ahead and made some. i have to say, the scones right out of the oven, still hot or okay, maybe warm after it'd cooled a little bit with some raspberry jam and clotted cream spread on was just the perfect late night snack. hahaha, yes, late night because by the time i finished baking, it was about 10pm! and yes, i couldn't wait, i had to have one right away. it was so good. so, what does clotted cream taste like? i think it's sort of like a thick heavy whipping cream. like super thick and very, very creamy. you could almost substitute whipping cream for it, but then again, it's not quite the same. but i think for the most part, it will do the job – it'd just be a tad lighter since it won't be as thick. i have to say, the combination of the jam and clotted cream in the scone was just delicious. if you've never had clotted cream before, i say it's a must try anytime you get a chance to have it.
so. good.
i know i will make sure i eat plenty of scones with jam and clotted cream the next time i'm in england.
below's the recipe should you want to make some scones for that late night snack (okay, afternoon tea or morning brunch/breakfast?!). this recipe's pretty simple so you can whip it up quickly. i've converted everything to american measurements so it's easier for us americans. i say use the cups measurements if you're making it, it's a whole lot easier. of course, if you want the actual UK measurements, i've included that as well. so make some and let me know what you think. enjoy and happy baking. :)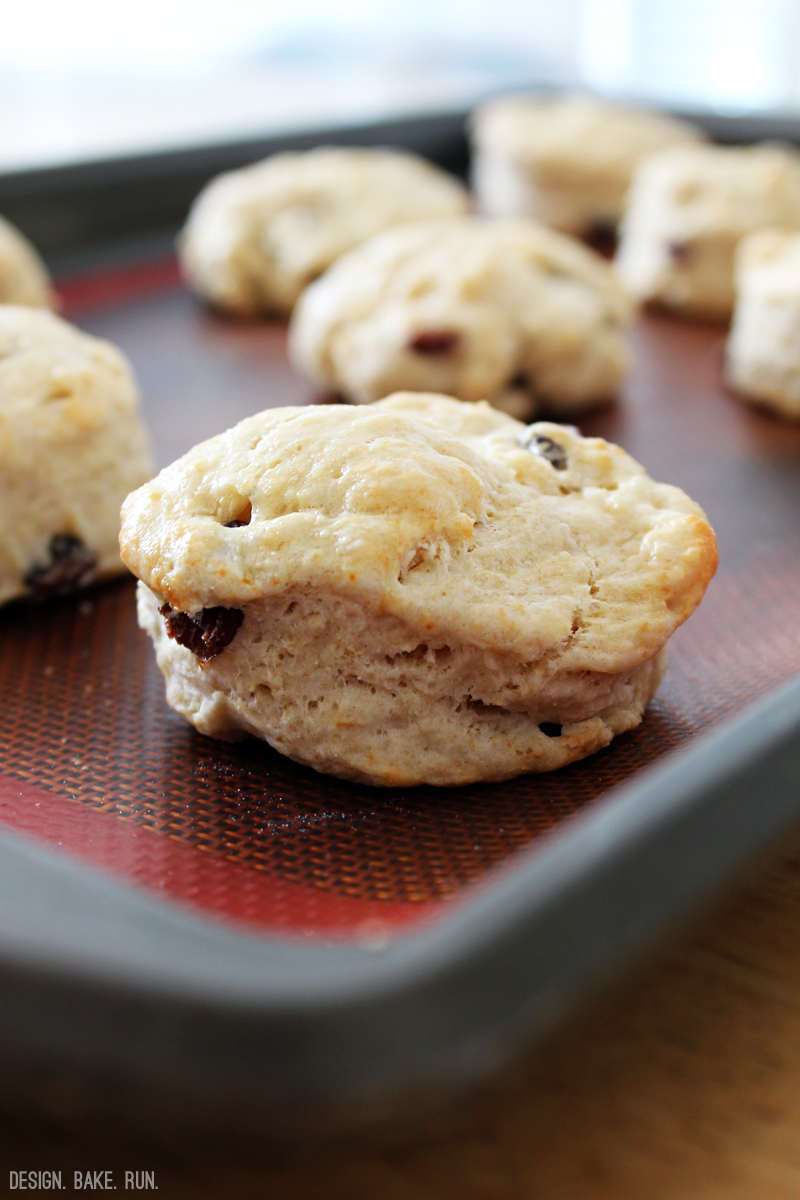 i love how these traditional english scones turned out. they're sort of like an american biscuit but with a hint of sweetness. and of course, nice and buttery – and perfect with clotted cream and jam!
jam and clotted cream with these english scones are just the perfect treat for any time of day. i, of course, had it for breakfast today, yesterday and the day before that. yum!
traditional english scones
recipe from bbcgoodfood
ingredients:
2 cups (225g) all-purpose flour
2 teaspoons baking powder
1/2 teaspoon salt
3 tablespoons (30g) caster sugar
4 tablespoons (55g) butter
1/3 cup (55g) raisins or sultanas (optional)
2/3 cup (150ml) milk
milk or egg wash*, for brushing
directions:
Heat the oven to 350° F (200C/fan 180C/gas 6). Mix the flour, baking powder, salt and caster sugar in a bowl, then rub in the butter with your fingertips until the mixture looks like breadcrumbs. Stir in the raisins or sultanas, if using.
Bit by bit, add 150ml milk until you have a firm dough. Turn out onto a floured work surface. Pat the dough into a circle about 1/2 in (1 1/2 cm) thick and cut out the scones (I used 2-1/2 in biscuit cutters). optional: if you like, you can put your scones in the freezer for 15 minutes to let them set before putting them in the oven. i hear it's supposed to harden the butter so when you bake it, it actually makes your scones a bit more flaky and yummy. i personally couldn't be bother to do that for this recipe here because i didn't have the patience or time to.
Put onto a non-stick baking sheet and brush the tops with milk or egg wash. Bake for 12-15 minutes. Serve with butter, or jam and cream.
*random note: i think i prefer egg wash over milk. having made this recipe twice in the last two days, the egg wash definitely helps the scones come out of the oven looking more brown or like it's been baked than the milk. the first time i made it i just brushed the scones with milk and they came out looking all pasty like it wasn't ready (baked) when really it was. so i say use egg wash and make your scones look scrumptious! :)
enjoy! makes about 8 scones. happy eating! :)