a few weeks back we had tacos for dinner. along with the many ingredients in making a yummy taco was sour cream. we had some sour cream leftover sitting in the fridge from the taco dinner and garbage night was fast approaching. so instead of throwing it out, i decided to make the most out of the leftover sour cream. so, what do we have here? you guessed it. nothing more delicious for breakfast than that sour cream coffeecake. i did a quick google search and landed on king arthur flour's website for this very tasty coffee cake. it's so tasty, they called it their "favorite sour cream coffee cake."
the end result? a very tender cake that was the perfect accompaniment to my morning starbucks iced coffee the next morning after i baked it. actually, i had another slice later that same day as an afternoon snack. delicious, all around and for sure a new favorite. i love how the cake is filled and topped with this yummy cinnamon-y streusel. the nuts in the streusel gave it a nice crunch and another dimension to the cake. i didn't have walnuts around so i substituted pecans instead and it was just as good. overall, a very excellent coffee cake. i brought about 3/4 of the cake into work and it was a hit.
now, if you're interested in making this cake, i say why not. it is so good and is perfect for breakfast, afternoon tea or whenever, just because. i know i will for sure be making this coffee cake again and possibly modifying it to see what else this recipe can do. enjoy and happy baking! :)
i never thought i'd be a sucker for breakfast sweets, but since i started baking, i love anything sweet for breakfast. this coffee cake is a perfect treat with my morning coffee.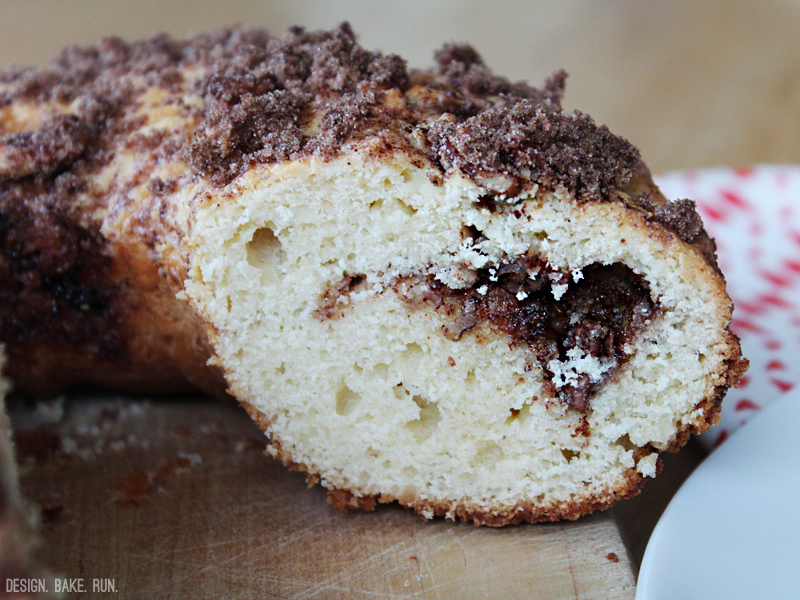 close-up of the cake. see that layer of cinnamon streusel? yummy!
i must bake this coffee cake for breakfast again. especially with fall here already, it would go perfect with that pumpkin spice latte. oh, that just sounds so good right now.
sour cream coffee cake
recipe from king arthur flour
cake
1/2 cup (4 ounces) butter
1 cup (7 ounces) sugar
2 large eggs
2 cups (8 1/2 ounces) unbleached all-purpose flour
1 teaspoon baking powder
1/4 teaspoon baking soda
1/2 teaspoon salt
1 cup (8 ounces) sour cream or yogurt*
*feel free to use low-fat (NOT nonfat) sour cream or yogurt; if using yogurt, try vanilla or another complementary flavor, if desired.
topping
1/2 cup (3 1/2 ounces) sugar
2 teaspoons ground cinnamon
2 teaspoons vanilla
1/2 cup (8 ounces) chopped walnuts, optional
directions
cream together the butter or margarine, sugar, and eggs. in a separate bowl, mix together the flour, baking powder, baking soda and salt. add the flour mixture to the butter mixture alternately with the sour cream or yogurt, stirring after each addition.
grease and flour a regular-sized (9 1/2-inch) tube pan or bundt-style pan, or a 9 x 9-inch pan. spread half the batter in the pan, and sprinkle with half the topping mixture. repeat with remaining batter and topping.


bake the coffeecake in a preheated 350°F oven for 25 to 30 minutes, or until the cake tests done. cool it for 10 to 15 minutes, then remove it from the pan. (if you've baked it in a 9 x 9-inch pan, just serve it right from the pan.) place the cake right-side-up (topping up) on a plate to serve.
makes 12 generous servings. enjoy and happy eating! :)