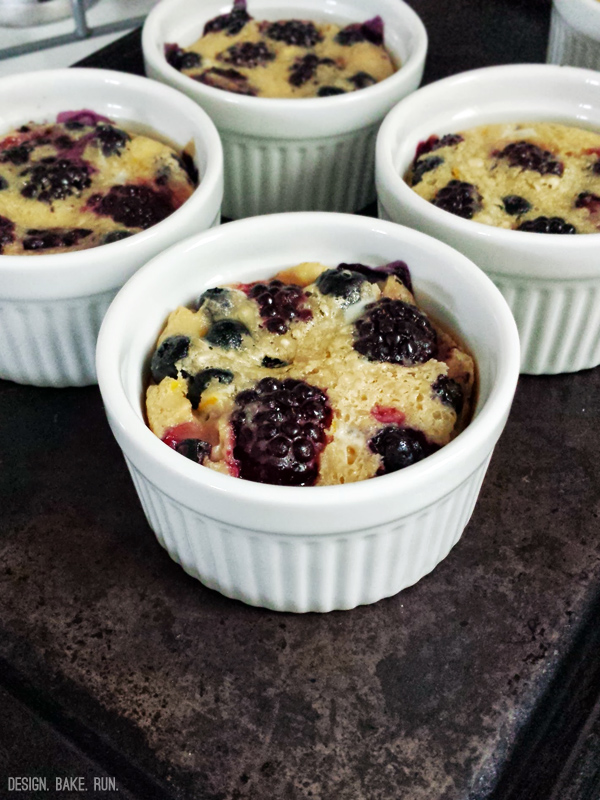 i've been hitting the farmer's market lately these past several weeks. during one of the outings i bought some blackberries. typically i'd just eat them all in one go, but i was strong enough to not inhaled the entire basket, but instead make something delicious out of them. and these good tasting, eat them warm right out of the oven summer berries custards was what i made with the blackberries. i actually had some blueberries on hand too so i used both. actually, you can even use raspberries or pitted cherries too.
the end result? i didn't really know what to expect. i thought since it was called a custard, i'd expected to be more custardy. but instead it was more like a pudding cake. it's not super sweet so i think you can even add some powdered sugar on top for a little extra if you like. but overall, a good cake. and of course, pudding cakes are big in my household, so we ate it up like that. actually, i think hogged most of the 6 ramekins that i made. but that was because m said he wasn't taking in any processed or added sugar. he hasn't been eating my baked goods since who knows when. maybe 6 weeks going on more? i can't remember.
ok, if you're interested in this recipe, i say why not make some. go out to your local farmer's market or grocery store and grab some of those summer berries before they're really gone for good. i know fall is here already and all those pumpkin baking recipes are popping up everywhere. so bake these for a last summer hurrah or just because. enjoy! :)
this custard is more like a pudding cake. i love how you get a little bit of the berries in every bite. yum!
summer blackberry custards
recipe from food & wine
ingredients:
6 cups blackberries (2 pounds)
1-1/2 cups whole milk
1/2 cup heavy cream
2 large eggs
3/4 cup packed dark brown sugar
1/2 cup all-purpose flour
1 teaspoon pure vanilla extract
1 tablespoon fresh lemon juice
1/2 teaspoon grated orange zest
directions:
preheat the oven to 450°F. spread 1/2 cup of the blackberries in each of twelve 4-ounce gratin dishes. arrange the gratin dishes on 2 baking sheets.
in a bowl, whisk the milk with the cream, eggs, brown sugar, flour, vanilla, lemon juice and orange zest until smooth. ladle 1/4 cup of the custard into each dish; bake for about 15 minutes, until the centers are set. transfer the custards to wire racks and let stand for 30 minutes. serve.
makes 12. or you can half the recipe (which is what i did) and make just 6. enjoy! :)