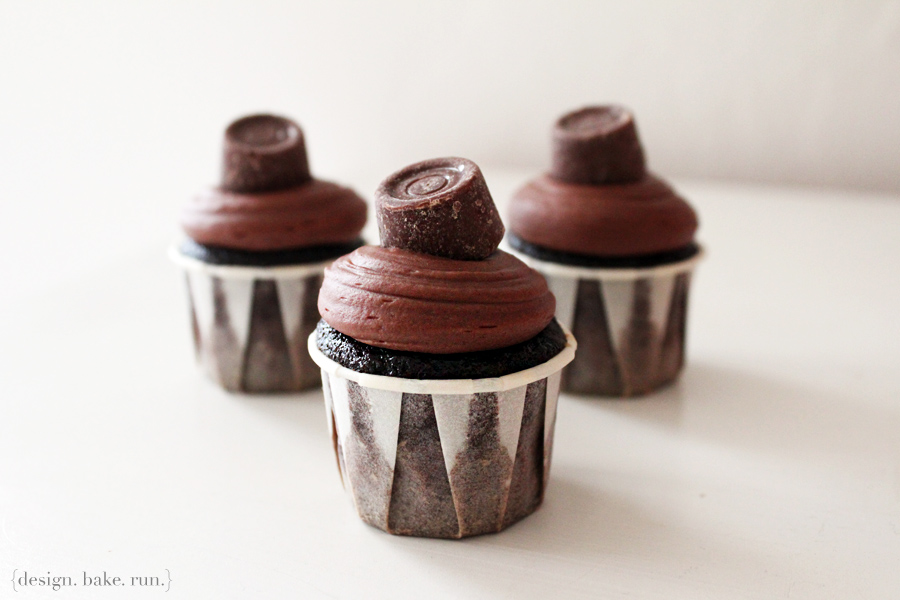 a while back i had some rolo chocolates for the first time ever. i know, right? i have to say, they were quite good and it gave me this idea to make some mini cupcakes with caramel filling. i figure since i do have some caramel bits lying around and the chocolate cupcake recipe i've been making lately is super simple to make, why not. i have to say these cupcakes turned out great! the melted caramel in the middle makes the cake extra moist and that much better, as if it wasn't good on its own already.
below's the recipe should you want to try making some yourself. enjoy and happy eating! :)
i absolutely love the caramel filling in these mini cupcakes. it makes for one delicious bite!
these are so so good. the cake is nice and moist with the caramel filling. it's a must try if you're a chocolate or caramel (or none of the two even) lover! ;)
rolo chocolate-inspired mini cupcakes
ingredients:
chocolate cupcakes:
1-1/2 cups flour
1 cup granulated sugar
1 tsp baking soda
1 tsp salt
1/3 cup cocoa powder
1/2 cup oil
1 cup water
1 tsp vanilla extract
1 tbsp vinegar
caramel filling:
1/2 bag of kraft caramel bits
2 tablespoons of water
chocolate ganache:
12 oz chocolate, chopped into small pieces
1 cup heavy cream
directions:
for the cake:
mix all ingredients together until moist and well blended. put in mini cupcake cups and bake for 15 minutes at 350 degrees F. let cupcakes cool completely before coring the center for the caramel. please core first before pouring in caramel filling.
for the caramel:
place the caramel bits with 2 tablespoons of water in a microwaveable bowl and heat it in the microwave for 30-60 seconds at medium power. you can heat it longer if the bits are quite melted after 60 seconds. once it looks like they are melted, stir the caramel quickly until smooth. use immediately. if at any point the caramel looks like it's thickening up, you can reheat it in the microwave for a few seconds to soften it again.
for the ganache:
place chocolate pieces in a large bowl. heat heavy cream on medium high until it comes to a boil. remove from heat and immediately pour cream over chocolate and stir until completely mixed and glossy. allow ganache to completely cool and set up. when you are able to spoon the ganache and it can hold its texture, it is ready for piping. pipe/frost and enjoy!
to assemble:
pour a generous portion of the caramel filling into the cored cupcakes. top with chocolate ganache frosting. that's it! happy eating! :)
chocolate cake recipe makes 50 mini cupcakes (or 16 regular ones). ganache recipe makes 1-1/2 cups. you can half all of these if you want to make less. i've done it many times halving the recipe.