it was so cold yesterday morning that i suggested baking some of c's favorite cookies, chocolate chip cookies. he absolutely loves these. actually, he loves making them more than eating them. that's because he loves eating the dough rather than the finished baked cookies. i'm sure if i let him eat the entire bowl of cookie dough, he would too.
this is my go to chocolate chip cookie recipe. i've been using this for quite a few years now. i think when i first started baking about 5 years ago, i went through a bunch of different ones and somehow, this was the most simplest, easiest to remember. i don't even look at the recipe anymore when it comes to making this. you just kind of throw things in and they turn out fine. of course, sometimes it may be a tad sweeter than another, but in our household, we'd rather take it sweeter than not as sweet. i know, that's awful, yes! but ahhh, indulging once in a while is okay. heh! i only bake like 3-4 times a week! actually, not everyone in my household eat everything i bake. that's where my coworkers come in. they'll take any baked goods i can offer – which is fantastic. i really wouldn't know where the goodies will go if no one will eat them.
below's the recipe should you be interested in trying them yourself. it's really easy. you can do them in a mixer or with a bowl & fork if you don't have one. i can't be bothered to get out the mixer so i just do mine with a microwaveable bowl and fork. it's gotta be microwaveable so i can melt the butter. yes, i don't always have time or think ahead to leave the butter out to room temperature so it's soft enough to beat with the sugar. therefore a bowl where i can melt the butter in is great (and add all the other stuff in later too to limit the cleaning).
adding the chocolate chips into the cookie dough
these little dough balls are all ready to be baked
freshly baked chocolate chip cookies out of the oven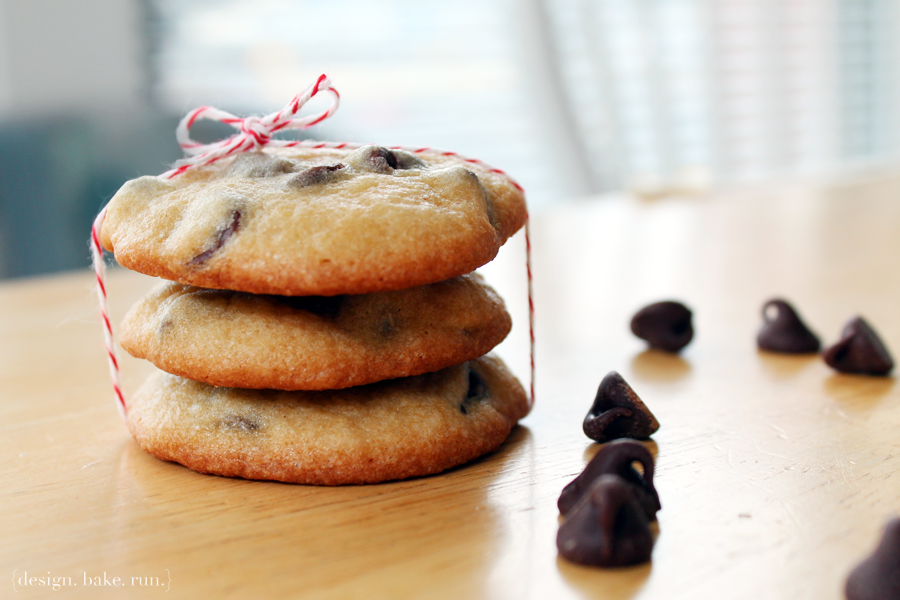 the cookies are all done and ready to gift (or eat!)
chocolate chip cookies
ingredients
8oz (1 stick) butter, softened or melted
3/4 cup sugar
3/4 cup brown sugar
2 eggs
3/4 tsp baking soda
3/4 tsp baking powder
pinch of salt
1-3/4 to 2 cups all purpose flour
12 oz (or 1 bag) chocolate chips
directions
preheat oven to 350°F. line baking sheet with parchment paper or silicone sheet.
cream softened butter (or melt butter in microwave safe bowl) and sugar together. then add in the egg. once mixed, add in the baking soda, baking powder, salt and flour. mix until incorporated, then add in the chocolate chips.
scoop out a tablespoon portion (ball-like) onto the baking sheet. make sure to spread out them at least 2-inches apart. bake for 8-10 minutes until golden but still soft in the center (baking time varies depending on how chewy or crunchy you like your cookies). transfer hot cookies with a spatula to a rack to cool. after a few minutes, they're ready to eat! enjoy. :)
makes 24-36 small cookies. store cookies in a tightly sealed container for up to 5 days.
note: the 1-3/4 to 2 cups of flour is based on how thin or thick you'd like your cookies. i sometimes prefer them thin and crunchy so i put in less flour (hence the 1-3/4 cups). with this batch of cookies, i actually used 2 cups of flour. the more flour, the less thin/crispy they are.