so my last teething biscuits for v didn't turn out the way i thought it would. like i mentioned in that
blog post
, the texture of the biscuit itself was unexpected and not in the (good) way i had hope. i expected it to be more of a crumbly cookie-like texture, but instead it was very doughy. i decided i try a different recipe and see how those turn out.
well, let me tell you, these vanilla biscottis turned out great! they are exactly like the regular kind the big kids can eat, firm but crumbly when gnawed, except that they're not as sweet. of course if you'd like to add more sugar in your version, go ahead. i'm sure you can even substitute whole wheat pastry flour for the all purpose flour if you want. i didn't substitute the flour because i didn't have any whole wheat handy or added a whole lot of sugar because i figure this is for my little one, a little hint of sweetness will do just fine. plus, the small amount of butter is giving this cookie that yummy buttery taste. i hope my little one will enjoy them as much as i'd enjoy making them for her.
below's the recipe should you be interested.
these homemade cookies are great for the little ones and so easy to make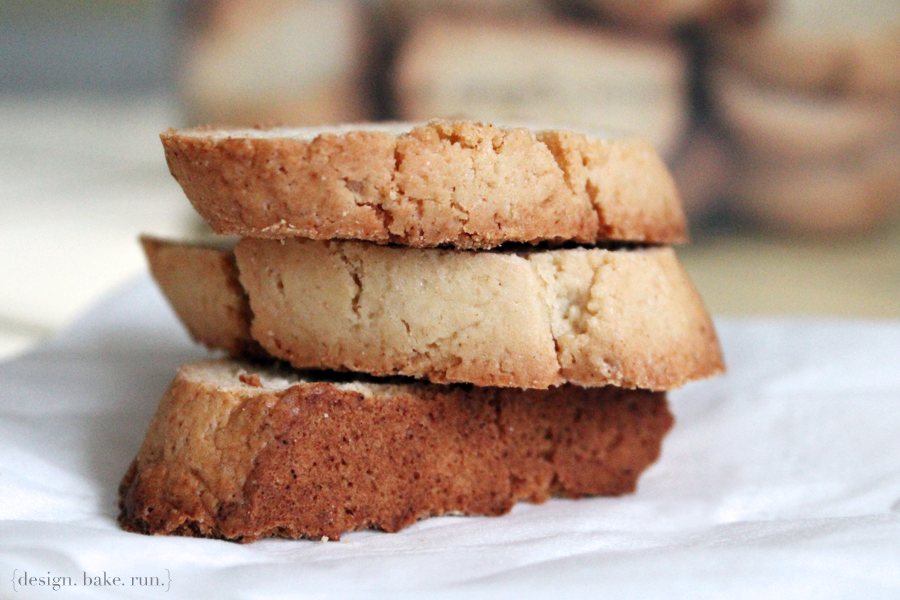 a side view of these goodies
this recipe sure makes plenty! i know v will be so happy to see something else different for a change ;)
teething vanilla biscotti
recipe adapted from here
ingredients:
1/4 cup sugar
1-1/2 tbsp butter
1 egg
1/2 tsp baking powder
a pinch salt
1 tsp vanilla extract
1 cup flour, 1/4 cup extra if needed
directions:
Preheat the oven to 350°F.
Cream the sugar with the butter and beat in the egg. Add the vanilla extract, 1 cup of the flour, baking powder and salt and mix the dough well. It should be fairly sticky, but you should be able to gently mould it with your hands. If it's too sticky, add the extra 1/4 cup of flour. Form the dough into a long "log" shape (around 8-10 inches long) and bake for 20 minutes on a greased baking sheet/cookie sheet.
Allow to cool, then carefully cut into 1/2 in slices with a sharp knife. You should get around 16-24 slices. Place each slice, cut side down, on a baking/cookie sheet, then bake for another 15-20 mins, turning the Biscotti over half way through the cooking time. If they still feel soft, lower the heat and cook for an extra 5 to 10 minutes.
Remove from the oven and cool completely - they get harder as they cool. Store in airtight container. Should keep for 2-3 days.