i absolutely love cream puffs. i can eat the entire batch myself. i know, it's so awful (and soooo not good for my waistline! hehe) – but delicious! i usually make them whenever there's leftover whipping cream, half-and-half, or egg yolks around. it's ashamed to let all those ingredients go to waste!
typically i make cream puffs with whipped cream as my filling, but lately i've been experimenting with different pastry cream recipes. i think i've finally found my favorite. it's from annie's eats, and i think her recipe is just perfect. i've adapted it to my liking, but overall i think it really works. the pastry cream comes out just right. it's very similar to pierre herme's vanilla pastry cream recipe, but i think i prefer half-and-half in my pastry cream like annie's than pierre herme's.
these cream puffs are so good. you must really try making them. it's not as hard as you think. sometimes one can be a little intimidated because the finish product looks so fancy, but they're really not hard at all. the pâte à choux is quite simple actually. and making the pastry cream's not bad at all. wait, you can skip the pastry cream filling if you prefer whipped cream instead! so really you have no excuse for not trying to make some yourself.
below's the recipe for these delicious cream puffs should you like to try them out yourself. enjoy!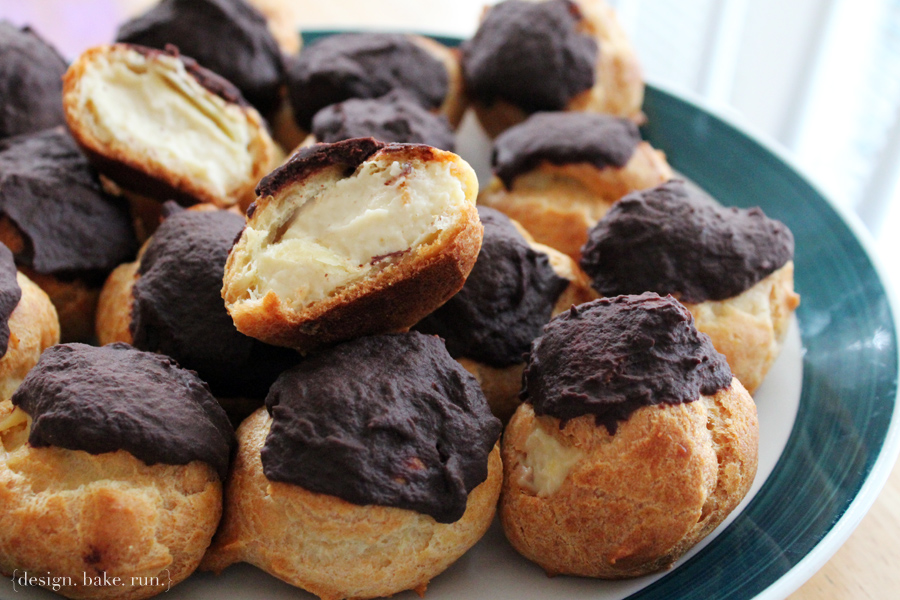 these cream puffs are so good. the pastry cream is just perfect!
a closer look of these yummy cream puffs -- delish!
cream puffs
adapted from here and here
ingredients
For the pastry cream:
1 cup half-and-half
1 cup whole milk
1/2 cup sugar
Pinch salt
5 large egg yolks
3 tbsp cornstarch
4 tbsp cold unsalted butter, cut into 4 pieces
1-1/2 tsp vanilla extract
For the pâte à choux:
1/2 cup all purpose flour
1/2 tsp sugar
1/4 tsp salt
1/4 cup (4 tbsp) unsalted butter, cut into pieces
1/2 cup water
2 large eggs, lightly beaten
for the chocolate ganache glaze:
4 oz chocolate, chopped into small pieces
1/3 cup heavy cream
directions
To make the pastry cream
, heat the half-and-half and milk, 6 tablespoons of the sugar, and the salt in a saucepan over medium-high heat until simmering, stirring occasionally to dissolve the sugar. Meanwhile, combine the egg yolks and remaining 2 tablespoons sugar in a medium bowl and whisk until the sugar has begun to dissolve and the mixture is creamy, about 15 seconds. Whisk in the cornstarch until combined and the mixture is pale yellow and thick, about 30 seconds.
When the half-and-half and milk mixture has reached a simmer, slowly add it to the egg yolk mixture to temper, whisking constantly. Return the mixture to the saucepan, scraping the bowl with a rubber spatula. Return the mixture to a simmer over medium heat, whisking constantly, until a few bubbles burst on the surface and the mixture is thickened and glossy, about 30 seconds. Off the heat, whisk in the butter and vanilla. Strain the pastry cream through a fine mesh sieve set over a medium bowl. Press plastic wrap directly on the surface to prevent a skin from forming and refrigerate until cold and set, at least 3 hours and up to 2 days.
To make the choux pastry
, preheat oven to 400°F (200°C) and place rack in center of oven. Line a baking sheet with parchment paper or lightly butter or spray the pan with a nonstick vegetable spray.
In a bowl sift or whisk together the flour, sugar and salt.
Place the butter and water in a heavy saucepan over medium high heat and bring to a boil. (Make sure that the butter melts before the water boils to reduce the amount of evaporation.) Remove from heat and, with a wooden spoon, add the flour mixture, all at once, and stir until combined. Return saucepan to the heat and stir constantly until the dough comes away from the sides of the pan and forms a thick smooth ball (about 1-2 minutes). Transfer the dough to your electric mixer, or use a hand mixer, and beat on low speed to release the steam from the dough (about a minute) &ndash
actually, i just do everything in the saucepan, beat the dough, adding the eggs, etc
. Once the dough is lukewarm start adding the lightly beaten eggs (dough will separate and then come together) and continue to mix until you have a smooth thick paste (dough will fall from a spoon in a thick ribbon). Spoon or pipe 12 small mounds of dough onto the baking sheet, spacing about 2 inches (5 cm) apart.
Optional: You can gently brush the tops of the dough with a lightly beaten egg if you like. I usually don't.
Bake for 15 minutes and then reduce the oven temperature to 350°F (180°C). Continue to bake for a further 30 minutes or until the shells are a nice amber color and when split, are almost dry inside. Turn the oven off, poke a couple of holes in each puff and, with the oven door slightly ajar, let the shells completely cool (and dry out).
To fill the puffs
, use the tip of a paring knife to make a small cut perpendicular to the first, creating an X in the side of each puff. Fill a pastry bag fitted with a 1/4-inch plain tip with the pastry cream. Pipe some of the pastry cream through the X into the side of each puff until it starts to ooze back out. Repeat to fill all the puffs.
To make the chocolate ganache glaze
, place chocolate pieces and heavy cream in a microwave-safe bowl, cover with plastic wrap, and microwave for 20 seconds at a time, until the mixture just begins to steam. Whisk together thoroughly until completely mixed and glossy. Allow ganache to cool slightly before dipping the tops of the cream puffs. Set the puffs on a rack to let the chocolate glaze set completely. If you don't care for the chocolate ganache glaze, you can sprinkle confectioner's sugar on top of the filled cream puffs. I personally prefer dipping them in the ganache because it tastes yummier that way. Serve within a few hours. Happy eating! ;)