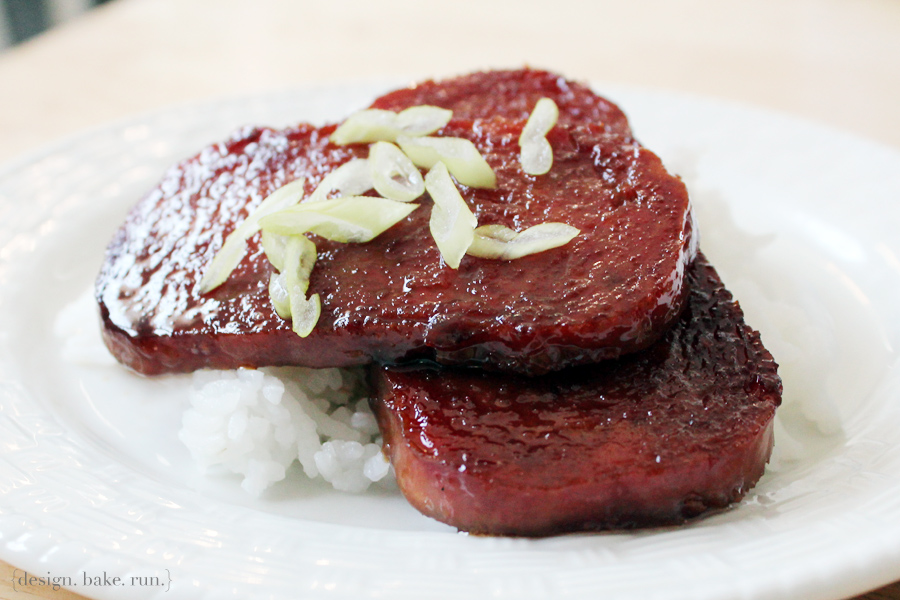 five years ago if you asked me if i liked spam i would probably respond, "ewww? spam?!" but these days, you'd definitely find me chowing down some good old spam and rice – i'll take it any day. i love it, especially when it's glazed with a sweet salty sauce that's very similar to a teriyaki sauce like the simple one i made for tonight's dinner.
the sauce is so simple, you only need two ingredients and it totally transforms plain boring spam into something delicious and finger-licking good! hahaha, yes, that is if you eat without any forks or knives – which i must confess, i do occasionally. ;)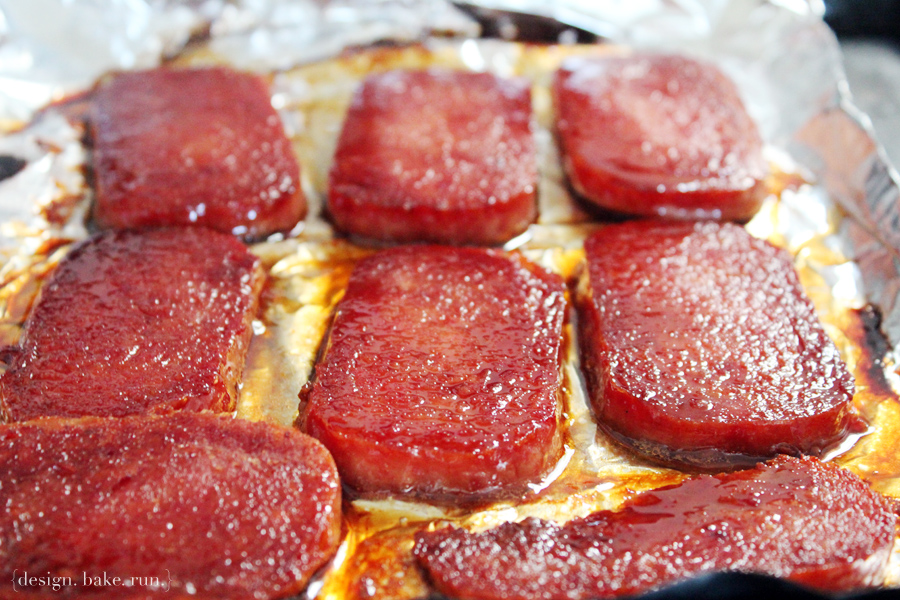 i used the oven to cook the spam – it makes for easy cleanup!
easy to make teriyaki-like glaze spam over steamed jasmine rice -- yum!
sweet & salty teriyaki-like spam over steamed jasmine rice
ingredients:
1 spam tin, sliced into 8 pieces
2 cups cooked jasmine rice
1/4 cup brown sugar
1/4 cup soy sauce
green onions for garnish (optional)
directions:
mix together the brown sugar and soy sauce in a small bowl and set aside. cook the sliced spam in a nonstick or frying pan over medium heat. once spam is seared enough on both sides (where it looks crusty) in the pan, add in the sauce. make sure to sauce all the pieces of spam. let the pieces sit for a minute or two to get the sauce to caramelize and thicken a bit. after those few minutes the spam should be ready to eat. serve spam over cooked jasmine rice.
suggested serving: 2 slices of spam per 1/2 cup rice. makes enough for 4 total servings. enjoy!
note: you can also cook the spam in the oven – that's what i did this time. i couldn't be bothered to fry them in a pan, so i used the oven instead. it makes the cleaning up process super easy actually. i would highly recommend cooking them in the oven. if you go this route, bake in 400°F for 10 mins, then add in half the sauce sauce, put back in the oven for a minute; take it out, flip the slices, add the rest of the sauce and put it back in the oven again for another minute; and voila! you're all done!