i couldn't help it but crave some kind of cakey bread. so this afternoon i decided that i would make some. with some eggnog in the fridge i wanted to experiment a little bit and decided on an eggnog bread. well, the end result wasn't exactly what i was hoping. you couldn't quite taste the eggnog once the bread is baked. so to even add a tiny hint of the eggnog, i drizzled it with a little eggnog glaze (unpictured, unfortunately). that did the trick a bit. the bread itself is very good, with or without the eggnog glaze.
below's the recipe should you want to try it. i love baked cakey breads. they are so good toasted with a little spread of butter. mmmm... yum! :)
the eggnog in this recipe doesn't really come out a whole lot so you can always drizzle it with an eggnog glaze. that's what i did after i took these photos, to bring out the eggnog flavor a little more.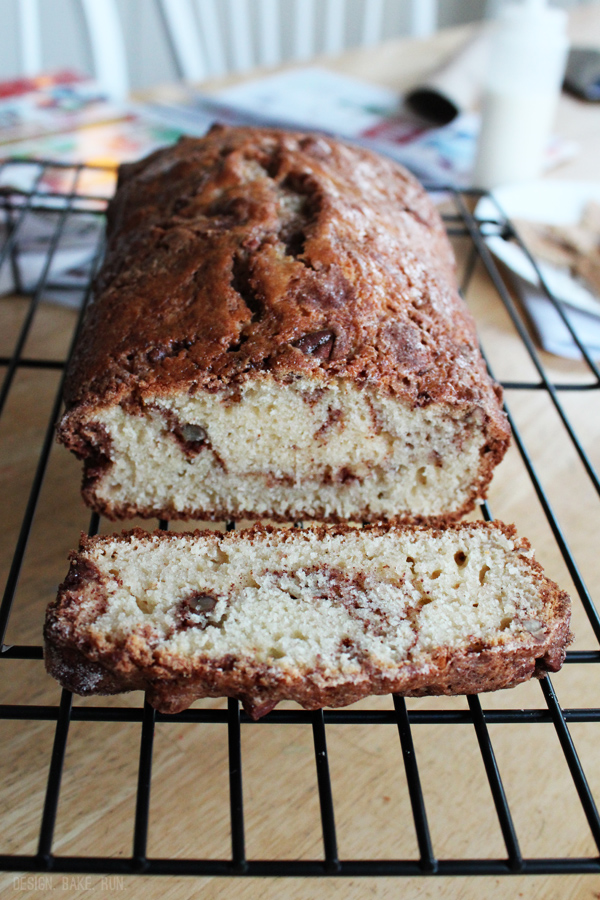 the cinnamon and nut in this recipe gives you the nicest aroma when the bread is baking in the oven. smells so yummy and it really is yummy!
all sliced and ready to eat!
eggnog cinnamon-nut bread
recipe adapted from better homes & garden
ingredients:
1-1/3 cups sugar, divided
1/2 cup finely chopped toasted pecans or walnuts
2 teaspoons ground cinnamon
2 cups all-purpose flour
1 teaspoon baking powder
1/2 teaspoon salt
1 egg, lightly beaten
2/3 cup eggnog
1/3 cup milk
1/3 cup vegetable oil
eggnog glaze (optional):
1-2 tablespoons eggnog
1/4 cup powdered sugar
directions:
Preheat oven to 350 degrees F. Grease and flour the bottoms and 1/2 inch up the sides of three 5 3/4x3x2-inch loaf pans or a 9x5x3-inch loaf pan; set aside. In a small bowl, stir together 1/3 cup of the sugar, the nuts, and cinnamon; set aside.
In a large bowl, stir together the remaining 1 cup sugar, flour, baking powder, and salt. Make a well in center of flour mixture. In a medium bowl, combine egg, eggnog, milk, and oil. Add egg mixture all at once to flour mixture. Stir just until moistened (batter should be lumpy).
Spoon half of the batter into the prepared pans. Sprinkle with half of the nut mixture. Top with the remaining batter and the remaining nut mixture. Using a narrow metal spatula or table knife, cut down through batter and pull up in a circular motion to marble.
Bake in the preheated oven for 45 to 50 minutes for 5 3/4-inch pans (55 to 60 minutes for 9-inch pan) or until a toothpick inserted near centers comes out clean. Cool in pans on wire racks for 10 minutes. Remove from pans; cool completely on racks.
If you want to add the eggnog glaze, mix the two ingredients together and drizzle it on top (use less eggnog if you want a thicker glaze). Then wrap and store overnight before slicing. Or if you're like me and can't wait, then just wait until the glaze set before slicing. Enjoy! :)
makes one loaf, about 12-14 servings depending on how you slice it.
check out last year's day 10 recipe: chocolate chip cookies with nutella & sea salt