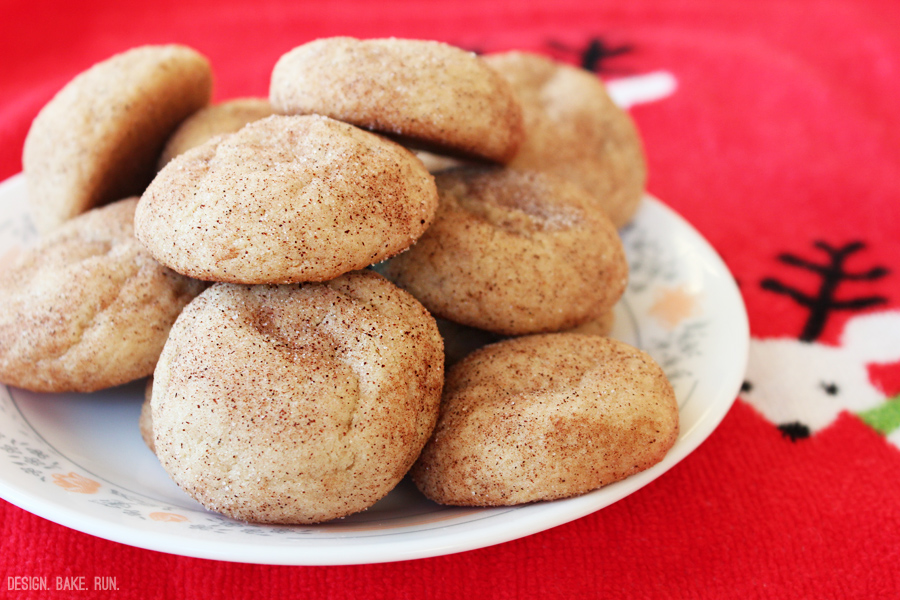 okay, i'm a little slow posting day 2's recipe here. but here it is. i decided on snickerdoodles. and i have to admit, i've never really had a snickerdoodle cookie before until i finally tried blue bottle coffee's vanilla-saffron snickerdoodle a few months back. some people say why did they even put saffron in their cookie, because it totally ruins the classic taste. i'm like, does it matter? it tastes fine to me!
my mother-in-law is a big fan of snickerdoodles. she said they're super simple to make (which they are) and for some reason, if you're a sweet tooth, the sugar really comes out in this recipe. so it's like this extra sweet goodie, without too much sugar really. i mean, chocolate chip cookies use way more (or slightly more) sugar.
anyway, below's the recipe for these yummy looking cookies. it's slightly adapted from blue bottle coffee's recipe. i took out the vanilla bean and saffron because i didn't have those ingredients on hand. oh, and i added the cinnamon sugar coating to give it a more festive taste, being that it's the holidays and all. so if you'd like to try and make some, i say go ahead. enjoy and happy baking! :)
snickerdoodles
recipe adapted from blue bottle craft of coffee cookbook
ingredients:
2 cups (9.9 oz / 280 g) all-purpose flour
1 teaspoon baking soda
1/2 cup (4 oz / 113 g) unsalted butter, at room temperature
1/2 cup (3.5 oz / 100 g) granulated sugar
1/2 cup (3.8 oz / 109 g) packed light brown sugar
1 teaspoon kosher salt
1 egg (1.8 oz / 50 g), at room temperature
2 tablespoons milk
1 teaspoon vanilla extract
optional (to coat the dough before baking):
1/4 cup sugar
2 tablespoons ground cinnamon
directions:
Preheat oven to 350°F (175°C).
Sift the flour and baking soda into a medium bowl.
In the bowl of a stand mixer fitted with the paddle attachment, beat the butter on low speed until smooth, 1 to 2 minutes. Add the granulated sugar, brown sugar, and salt and mix on low speed until well combined. Scrape down the sides of the bowl, then mix on medium speed until light and fluffy, 4 to 5 minutes.
In a medium bowl, combine the egg, milk, and vanilla extract and whisk vigorously until well blended. With the mixer on medium speed, add the egg mixture very slowly, in a steady stream, and mix until well-incorporated and very smooth, about 30 seconds. Scrape down the sides of the bowl, then mix on medium speed for 30 more seconds. Scrape down the sides of the bowl, then add the flour mixture. Mix on low speed just until uniform in texture.
Line a baking sheet with parchment paper or a silicone mat. Roll 1 tablespoon portions of the dough into balls (and if you want to roll them in the cinnamon sugar mix, this is when you do it). Then place them on the baking sheet, spacing them at least 2 inches (5 cm) apart. Bake for about 10 minutes, until golden but not too dark, rotating the pan midway through the baking time. Ideally, the baked cookies will be tall and slightly undercooked in the center, and will buckle shortly after coming out of the oven. If the cookies don't buckle, don't worry; they'll still be delicious. Let the cookies cool on the pan for 10 minutes before removing. These cookies are best when eaten warm, shortly after they come out of the oven. However, they can be stored in an airtight container at room temperature for up to 2 days. Alternatively, the dough can stored in an airtight container in the refrigerator for up to 5 days, so consider baking only as many cookies as needed and saving the rest of the dough to bake another day.
makes about 4 dozen small cookies or 9 large cookies (1/4-cup dough balls, bake for 16 mins).
check out last year's day 2 recipe: chocolate snowcap cookies