hello there! here's day 3. again, not so great this year with posting up the new recipes, but i do have to say, i really really love today's recipe. it's super easy to make and the sticky pecan addition is to die for. it's sweet and crunchy and gives you just the right amount of sugar to your (cup)cake ratio.
so, what are you waiting for? go right ahead and make yourself some of this delicious sticky pecan upside-down baby cakes. i literally turned them into baby cakes and used mini cupcake pans to bake these (if you do this, cut down the baking time and only bake them for 15-17 mins). it made a whole bunch, and was perfect as mini one-bite goodies. the mini size would be perfect to make for holiday parties (again, because it makes a bunch) or as is in the jumbo muffin size and give out as gifts this holiday season. whichever you choose, you'll be delighted to find that the outcome will be just as delicious. although i do recommend making a little more (1.5x or 2x the amount) of the pecan topping because you may have more batter to pecan mixture. either that or i wasn't very good at distributing my ingredients because towards the end i found that i had more batter than nuts and those last few weren't so crunchy or sweet tasting.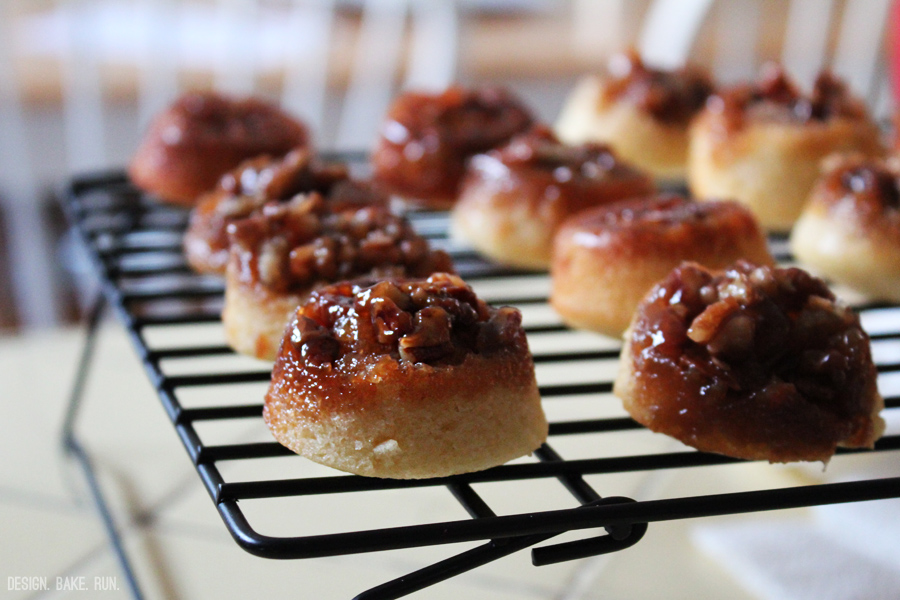 these sticky pecan upside-down baby cakes look so scrumptious and are the perfect little bite-size treats at any (holiday) party or as gifts.
sticky pecan upside-down baby cakes
recipe from better homes and garden


Ingredients:
Nonstick spray for baking
2/3 cup packed brown sugar
1/2 cup butter
1/3 cup honey
1-1/2 cups coarsely chopped pecans
1 teaspoon finely shredded orange peel
2-1/2 cups all-purpose flour
1 teaspoon baking powder
1/2 teaspoon baking soda
1/2 teaspoon salt
3 eggs
2 cups granulated sugar
1 cup cooking oil
1 8 ounce carton dairy sour cream
2 teaspoons vanilla
Orange peel curls (optional)
Directions:
Preheat oven to 350 degrees F. Lightly coat twelve 3-1/2-inch (jumbo) muffin cups with nonstick spray for baking; set aside.
In a medium saucepan, combine brown sugar, butter, and honey. Cook and stir over medium heat about 2 minutes or until smooth. Remove from heat. Stir in pecans and the finely shredded orange peel; set aside.
In a medium bowl, stir together flour, baking powder, baking soda, and salt; set aside.
In a large bowl, combine eggs and granulated sugar. Beat with an electric mixer on medium to high speed about 3 minutes or until mixture is thick and lemon-colored. Add oil, sour cream, and vanilla; beat until combined. Gradually add flour mixture, beating on low speed until smooth.
Place 2 tablespoons of the pecan mixture in the bottom of each muffin cup. Spoon a heaping 1/3 cup of the batter into each cup. Place muffin pans on a foil-lined large baking sheet.
Bake for 25 to 30 minutes or until a toothpick inserted into the centers comes out clean. Cool in muffin pans on wire racks for 5 minutes. Using a sharp knife or narrow metal spatula, loosen edges of cakes from sides of muffin cups. Invert cakes onto wire racks. Spoon any pecan mixture remaining in the muffin cups onto cakes. Serve warm or cool. If desired, garnish with orange peel curls.
Makes 12 cakes. Or A LOT of mini cupcakes... like about 6 dozens?!
Note: If you're making mini cupcakes, cut down the baking time by 8-10 minutes (and use about 1 tablespoon of batter, maybe a little less – just to 2/3 or 3/4 full). To store, cooled cakes in a tightly covered container at room temperature for up to 2 days. To reheat: Place cakes on a foil-lined baking sheet. Cover loosely with foil. Bake in a 350 degrees F oven for 15 to 18 minutes or until warm.
check out last year's day 3 recipe: madeleine cookies