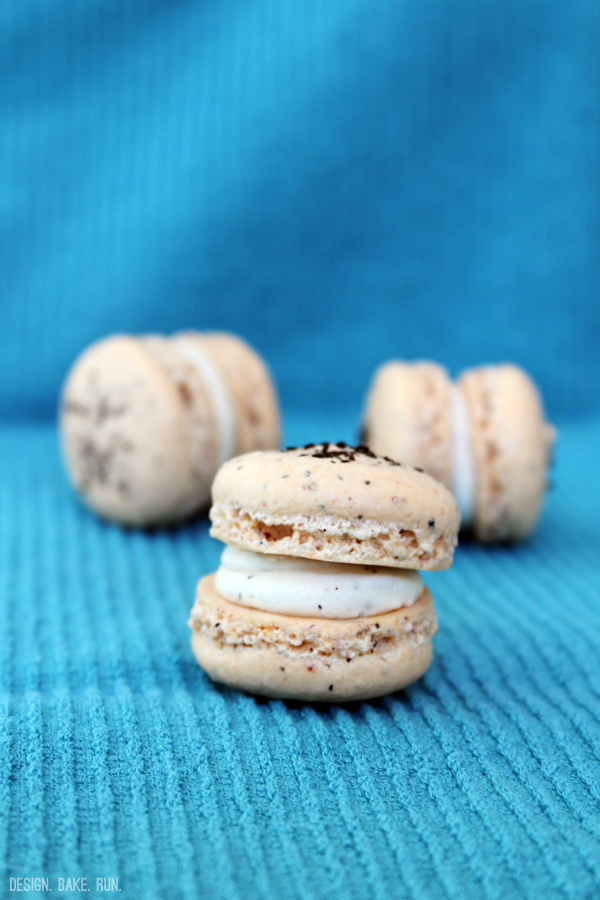 well hello there! and welcome to day 6 of my not so crazy christmas baking. i say not so crazy because this year i'm taking it slow. of course now that christmas is almost here, i'm not sure if that's quite so true now. i've worked it out and let's just say i'll be posting a new recipe every day up until christmas eve. i think that's right. we'll see. regardless, there will be 12 recipes in all. :)
today's recipe calls for earl grey tea french macarons. i'm a giant fan of macarons so it's no surprise. tea in it itself is another story (i'm not quite a tea fan, just because i've yet to acquire the taste for it). but i don't mind it in some of my baked goods. this cookie is actually quite good because i feel like you only get hints of the tea. so it's not crazy infused or anything.
as usual, if you'd like to give this recipe a try, i say go for it. enjoy and happy baking! :)
for any tea lover or macaron fan, these earl grey tea flavored macarons are spot on. i love the hint of the earl grey tea and the crispy and chewiness combo.
earl grey tea macarons with earl grey tea buttercream filling
ingredients:
macaron batter:
1 cup powdered sugar
3/4 cup almond meal
1 packet earl grey tea leaves (or 1/2 teaspoon of loose leaves), plus more for sprinkling on top
2 large egg whites, at room temperature
5 tablespoons granulated sugar
earl grey tea buttercream:
1 packet of earl grey tea leaves (or 1/2 teaspoon of loose leaves)
1 stick of butter, room temperature
2 cups of powdered sugar
milk or cream, if needed
directions:
to make the macaron batter/shells:
line two baking sheets with parchment paper and have a pastry bag with a plain tip (about 1/2-inch, 2 cm) ready.
sift together the powdered sugar and almond meal so there are no lumps. add in the earl grey tea leaves and stir it to make sure it's fully incorporated with the sugar and almond meal mixture. set aside.
in the bowl of a standing electric mixer (or if you prefer, you can use a bowl and hand mixer), beat the egg whites until they begin to rise and hold their shape. while whipping, beat in the sugar until very stiff and firm, about 2 minutes.
carefully fold the dry ingredients, in two batches, into the beaten egg whites with a flexible rubber spatula. when the mixture is just smooth and there are no streaks of egg white, stop folding and scrape the batter into the pastry bag (standing the bag in a tall glass helps if you're alone).
pipe the batter on the parchment-lined baking sheets in 1.35-inch circles evenly spaced one-inch apart.
rap the baking sheet a few times firmly on the counter top to flatten the macarons. then let it sit for at least 30-60 minutes depending on humidity before baking them in the oven. about 10-15 minutes before baking, preheat oven to 350 degrees F. bake for 15 minutes.
once macaron shells are out of the oven, let them sit for 30-60 seconds before removing the hot baking sheet underneath. let the macarons cool completely before removing them from the parchment paper.
for the earl grey tea buttercream filling:
in a medium bowl combine the butter and sugar and mix until incorporated.
then add in the packet of earl grey tea leaves and mix until combine and you've reached the right consistency for buttercream. if it's too thick, thin it out with a little bit with milk or cream. if too thin, add in a little more powdered sugar.
to assemble the macaron cookies:
before assembling these cookies, make sure to pair up all the cookie shells so they are as close as possible in size.
using a knife, spread a good amount of the buttercream on the inside of the macarons then sandwich them together. note: you can certainly put the buttercream in a piping bag and pipe the buttercream onto the cookie. it's a lot easier i think and less mess. but i can't be bother to do this so i almost always just spread it with a knife.
let them stand at least one day (keep them refrigerated) before serving (serve at room temperature), to meld the flavors.
store in airtight container for up to 5 days. makes 20-24 macarons. happy eating because these are really, really, good! :)
check out last year's day 6 recipe: chocolate cream cheese cupcakes